Tomorrow night in Atlantic City will be the Bellator 83, which is the next to last show for the seventh season of the Bellator Fighting Championships.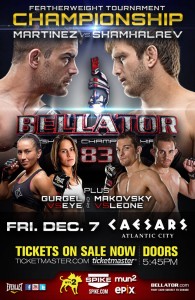 The preliminary card will begin at 6 p.m. ET on Spike.com and the main card will begin at the special start time of 7 p.m. ET on MTV2 and in commercial free high definition on EPIX2.
The main card will feature the featherweight tournament final as Rad Martinez faces Shahbulat Shamhalaev with the winner receiving $100,000 and a guaranteed title shot down the road.
Also, former bantamweight champion Zach Makovsky returns to the cage for the first time after losing his title to face Anthony Leone and Zoila Gurgel takes on Jessica Eye in a women's flyweight bout.
Rad Martinez (14-2) vs. Shahbulat Shamhalaev (11-1-1)
Martinez entered Bellator last year and was known for his wrestling, but has shown improvements in his striking game during this tournament. After his quarterfinal bout, Bellator Chairman and CEO Bjorn Rebney compared the improvements in the striking game of Martinez to what he saw in Michael Chandler as he was making his way through the lightweight tournament and eventually becoming the champion. During this tournament, Martinez has two decision victories with the wins coming against Nazareno Malgarie in the quarterfinals and Wagnney Fabiano in the semifinals.
Shamhalaev came to Bellator in this tournament after being unbeaten in his last eight fights. His only professional lost came against now UFC fighter Khahib Nurmagomedov in 2009 and since then, he has gone 9-0-1. Both of his wins during this tournament have come by knockout in the first round with the wins coming against Cody Bollinger and Mike Richman. In his semifinal bout with Richman, he was able to use his counter striking to score the victory and his spot in the final.
Even though Martinez has showed his improved striking, he will likely look to stay away from this against Shamhalaev. For him to get a victory, he will need to take the fight to the ground and work his ground attack. Shamhalaev likes to bait his opponent in and counter strike, which he has done in both of his Bellator fights.
Prediction: Shahbulat Shamhalaev via TKO in first round
Zoila Gurgel (12-1) vs. Jessica Eye (8-1)
Gurgel is the only women's champion in Bellator, which was in the 115 lb division and this will be a flyweight (125 lb) fight, which it appears Bellator is planning to have a tournament for the women at this weight class. Gurgel is currently on a seven fight winning streak and recently returned to the Bellator cage this season after being away because of injuries.
Eye has won both of her fights in Bellator and is currently on a five fight winning streak, with all of those wins coming by decision. Her only professional lost came last year against Aisling Daly by submission.
Both fighter share a common opponent in Casey Noland, which Gurgel scored a unanimous decision victory earlier this season and Eye defeated her by split decision in her Bellator debut last year. Gurel will be looking for a better performance tomorrow night and may end up using her wrestling to win. Eye will look to push the pace in the fight and bring the action straight to her opponent.
Prediction: Zoila Gurgel by decision
Zach Makovsky (14-3) vs. Anthony Leone (11-5)
This is the return of Makovsky to the Bellator cage after losing the bantamweight title to Eduardo Dantas earlier this year. Prior to his lost, he was on a eight fight winning streak and his last two wins have come by stoppage.
This will be the fourth fight for Leone in Bellator as he lost his first two fights in the organization and defeated Claudio Ledesma at Bellator 68 by split decision to win his first fight. He start his career with eight straight wins, but dropped his next four which included a lost to Renan Barao, but has gone 3-1 in his last four fights.
Makovsky will have a big advantage in this fight with his wrestling and submission game. He should be able to take down Leone and look for him to cruise to a victory with either a submission or decision in this fight.
Prediction: Zach Makovsky by decision