The seventh season of the Bellator Fighting Championships concludes this evening with Bellator 84 from the The Venue at Horseshoe Casino in Hammond, Indiana.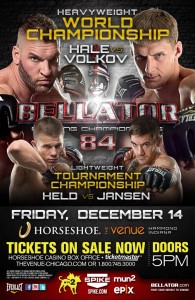 Tonight's main-event will by Rich Hale (21-4-1) squaring off against Alexander Volkov (18-3) in the heavyweight tournament final and the winner will win the vacant Bellator heavyweight world championship.
The seasons lightweight tournament final was supposed to conclude with Marcin Held (15-2) and Dave Jansen (18-2) but the fight has been cancelled due to Held being under 21 years old.  More info on this here.
To discuss the fights, use the comments section below and follow Pete DiLorenzo (@LonghornsMMA) on Twitter, who will following the action and play by play of tonight's card will start with the main card at 8 p.m. ET.
Louis Taylor vs. Joe Vedepo
Round 1 – Taylor rushes in and pushes Vedepo against the cage. Taylor continues to push the action and scores back-control. As the two are clinched the tape broke on Taylor's glove so the referee broke them up and stopped the fight temporarily. As the two squared off again Taylor came in for a successful take-down. From the top Taylor continued to drop left-hands, but Vedepo kept Taylor tight in half-guard. As Taylor looked for more separation he landed a clean shot on Vedepo that forced a stop to the fight.
Result: Louis Taylor defeated Joe Vedepo via KO (punch,) Round 1, 4:12.
Felice Herrig vs. Patricia Vidonic
Round 1 – Vidonci comes out looking to swing early. Herrig immediately starts to use her muay thai when Vidonic clinches up and pushes Herrig to the cage. The two separate and Herrig continuing to use her kickboxing skills. Vidoni pushes the clinch against the cage again. Every time Herrig engages with kicks Vidonic pushes for the clinch. Vidonic then pulls guard and Herrig gets in top-position. Herrig quickly worked for side-control and then moved into a crucifix position. Herrig then postured up and started throwing heavy punches from the top. Both fighters eventually got back to their feet with more clinching against the cage. The round ended with Felice jumping on Vidonic's back when the bell rang.
Round 2 – Round starts with both trading several jabs. Vidonic once again got frustrated and pushed Herrig against the cage for some clinching. Vidonic again pulled guard and Herrig landed on-top. From the top Herrig continued to posture up and try to drop damage. Vidonic looks for a lazy triangle but Herrig pulls out and forces a stand up. Herrig starting to land some heavy damage but once again Vidonic forces the clinch. The two make there way down to the ground again and the round finishes with Herrig on-top and dominating.
Round 3 – Herrig starts the round out with some heavy shots and a take-down. Herrig immediately goes for half-guard and is working some elbows. Herrig once again postures up and decides to force a stand-up. Vidonic closes the distance again and is taken down.  This round is becoming a carbon copy of the others. Herrig eventually works for full mount but is pressured and Vidonic lands on-top in closed-guard. Herrig has a very strong closed-guard that has the referee questioning a stand-up. Vidonic inches Herrig over the cage but is unable to get anything going. The referee finally stands the two up and the round finishes with Herrig landing a leg-trip and another 30-seconds of top-control.
Result: Felice Herrig defeated Patricia Vidonic by unanimous decision (30-27, 30-27, 30-27)
Daniel Vizcaya vs. Jack Hermansson
Round 1 – Vizcaya coming out with some good power shots. Hermansson clinches up and thows Vizcaya to the ground. Vizcaya looking to get up but Hermansson too strong.  Vizcaya gets back up and Hermansson goes for a suplex but is unable to secure it. Vizcaya then sweeps Hermansson and gets him to the ground. As the round wore on Hermansson started working butterfly guard to counter Vizcaya's movement. The round ended with Vizcaya in Hermansson's guard and working his ground-and-pound.
Round 2 – Both fighters open the round tentative. Vizcaya then goes for a power take-down but lands against the cage in the clinch. Vizcaya then muscles Hermansson down to the ground and is trying to work for a D'arce choke. Hermansson did a great job of defending the submission attempt and powered himself back to his feet. Vizcaya then went for an ankle-pick and got Hermansson back down again. Hermansson then walked the cage and got back to his feet. Vizcaya once again forced the clinch against the cage and is using his weight to force Hermansson down. Hermansson grabs the cage but that is still not enough as Vizcaya gets the fight to the ground again. Hermansson going for a kimura form the bottom but misses and turns it into a sweep and lands on-top. The round ends with Hermansson landing some decent shots.
Round 3 – Both fighter start the round landing some small jabs. Vizcaya then pushes the fight to the cage but Hermansson scores the take-down. Hermansson is dropping some heavy damage as he is trying to finish this fight. Vizcaya pulls Hermansson into half-guard and the round slows down a bit. Hermansson continuing to work but Vizcaya doing a great job of holding him. Hermansson looking for a guillotine from half-guard but lets it go. Vizcaya finally got back to his feet with about 60 seconds left in the round. Hermansson then got Vizcaya to the ground and started dropping some side elbows to Vizcaya's head. The round ended with Vizcaya holding onto Hermansson's leg while getting elbowed repeatedly.
Result: Daniel Vizcaya defeated Jack Hermansson by split decision (29-28, 28-29, 29-28)
Rich Hale vs. Alexander Volkov
Round 1 – Both fighters are tentative to start. Hale engages first but is brushed off by Volkov. Volkov takes the center of the cage while Hale keeps circling and coming in-and-out. Hale rushes in with a couple of lazy hooks. Volkov grabs Hale and fades to a trip and gets the take-down. Hale working a triangle but Volkov backs off.  Hale very active off of his back but Volkov is very patient. The referee eventually loses patience and forces the fighters up. Hale then rushes in and Volkov lands a nice counter-punch. As the round finishes Hale lands a serious shot to Volkov. He then rushes him to the cage and tries to finish him but not enough time in the round.
Round 2 -Both fighters come out more aggressive with Volkov looking to clinch against the cage. Volkov working overtime for a take-down but Hale doing a great job of keeping himself against the cage. Volkov finally gets Hale down but is unable to mount any real offense. The referee once again stands both fighters up with about 90-seconds.  Hale now taking the center of the cage and Volkov circling. Volkov comes in for a nice head-kick but it is checked by Hale. As the round came to a close both fighters traded 1-2 combinations.
Round 3- Hale comes out with a flurry of punches. Volkov returning the favor with a few shots of his own. The two continue to circle each other with not much action going on. Hale starts circling and Volkov lands a nice head-kick which Hale walked right through.  A cut has now opened over the right eye of Hale. As the round wore own both fighters started to open up some more on their feet. Neither guy getting the better of the exchanges but the pace is picking up a bit. With about 60 seconds left Volkov hits a flurry and pushes Hale to the cage. As both fighters clinch Volkov continues to use his size to keep Hale against the cage. The round ends with both fighters tight to the fence.
Round 4 – Hale comes out looking to land some heavy power shots but Volkov immediately starts circling and dodging. Volkov now circling angles and hitting some light jabs.  Hale goes in for a power shot and whiffs air. Hale now being more aggressive but having trouble to find his range. Both fighters start to slow down a little bit by exchanging some light leg kicks. As the round wore on neither fighter really established anything – just lots of circling. The round ended with both guys trading some light jabs.
Round 5- Hale comes out throwing 1-2 combinations with authority. Hale very aggressive this round but Volkov doing a great job of circling. Hale continues to break Volkov's angles but not able to get anything going. Volkov offering some very good counter punches that seems to be slowing Hale down a bit. Volkov lands another counter right but Hale rushes in with a short flurry. With 60-seconds left in the round Volkov continues to circle and lands a nice high-kick. Hale now breaking down Volkov's angles but not enough and the bell rings for the close to this fight.
Result: Alexander Volkov defeated Rich Hale by unanimous decision (49-46, 49-46, 49-46)
Preliminary Card: (Spike.com)
Christian Uflacker def. Cliff Wright by technical decision (29-28 x3) Round 3, 2:26
Jerald Williams defeated Joey Diehl by unanimous decision (29-28, 29-28, 29-28)
Anthony Gomez defeated Anton Talamantes by submission (RNC) Round 1, 3:30
Robert White defeated Kenny Booker via unanimous decision (29-28, 29-28, 29-28)
Belal Muhammad defeated Quinton McCottrell via unanimous decision
Dave Sharp defeated Eddie Castillo via TKO (punches) Round 2, 2:35