Just one day after the UFC crowns their first two TUF: The Smashes champions, another great card will take place in Las Vegas. A new Ultimate Fighter champion will be crowned, this time for the 16th season of the US version of the show.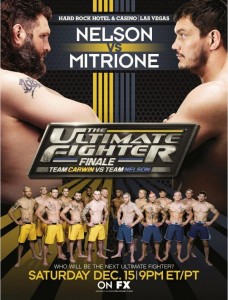 This is arguably the best Ultimate Fighter Finale card in the show's existence. The main event may put some people off, but the undercard is absolutely stacked with fun matchups and competitive fights. This article will explore the numerous betting possibilities on this card.
This card has numerous opportunities to get in some bets. It will also be a volatile night of betting, due to the amount of underdogs that will be targeted. There are many fights where the rightful favorite is moderately to severely overvalued. We will look to take advantage of these opportunities.
For tracking purposes, these betting lines are current as of 3:30PM EST and have been pulled from 5Dimes.
Jared Papazian (+135) vs. Tim Elliot (-155) – Both guys here show a commonality in that they need a win here badly. Papazian is coming off of two losses, not having won a bout in the UFC. Elliot lost in his UFC debut vs. John Dodson, in a fight that was an impressive showing. I like Elliot to win here, as I believe him to be more well rounded. He has a more diverse (and flashy) attack on the feet, decent takedowns, and a more well-rounded game. Being able to hang with Dodson is a sign that we can expect a good outing from him in this fight. I like a straight wager on Elliot at this price.
Mike Rio (-160) vs. John Cofer (+140) – This is a battle of wrestlers. Mike Rio is a guy who will be looking for top control and takedowns in this fight. He should be at a striking disadvantage against Cofer. The problem with Rio's likely path to success (a decision victory), is that it can be thwarted by Cofer's wrestling. Cofer is a former NCAA Division I wrestler, and will be tough to take down. Rio's fight against Andy Ogle during The Ultimate Fighter 15 was very telling. He was outstruck by Ogle, who I do not believe to be a great striker. Also, when put in a bad position on the ground, it looked like he was tapping out before the choke was set in. This makes me question his heart. I favor Cofer to win this fight outright, and love him at the dog price.
Hugo Viana (+105) vs. Reuben Duran (-125) – Interestingly enough, Viana was opened up as the favorite in this fight. The public has been betting Duran strongly enough to flip the odds on us. This is a fight that is very likely to stay on the feet. Duran will occasionally try and mix in takedowns with his strikes, but will probably find little success bringing Viana to the ground. Viana has shown good takedown defense, and will look to use his boxing and movement to win a decision in this bout. I favor Duran slightly because of his more varied attack on the feet, but not enough to justify a bet in this bout. Viana can also win this fight, as I expect this to be highly competitive. I am going to be passing at these prices.
TJ Waldburger (-130) vs. Nick Catone (+110) – This is a battle of two guys who are mostly ground specialists, but in very different respects. Waldburger is very explosive early on in the fight, looking to get his opponent down and lock in a submission. Catone is a former Division I wrestler who wins fights by stifling his opponents via top control. Waldburger fought a top control wrestler in his last fight against Brian Ebersole, nearly submitting him on several occasions. Ebersole's sub defense is fantastic, as he was able to get out from these attempts and win a decision. I favor Waldburger in this fight, because I do see this fight hitting the floor at some point. If the fight gets there, Waldburger is likely to lock in a submission. If it does not, Catone will hold advantages on the feet against an opponent with a questionable gas tank. This line is currently too tight for me to bet. I will pass at current prices, but will look for prop bets on Waldburger in the distance and Catone by decision.
Vinc Pichel (+205) vs. Rustam Khabilov (-245) –  The opening line had the debuting Russian at nearly a 3-1 favorite, which surprised myself and others. Some very sharp MMA bettors favor Pichel to win this contest outright. Pichel is a well-rounded fighter who should have a decent chance to win this fight if it stays on the feet. Khabilov has some pretty decent boxing, but his bread and butter is trips from the clinch, takedowns, and top control. He is a combat sambo world champion, and fights out of a good camp (Jackson's). I favor Khabilov to win this fight, due to his ground skills and submission ability, but will be passing on this fight. I cannot lay that price on a debuting guy who has mostly fought unknowns en route to the UFC. On the other hand, I do not know what to expect out of Pichel either. He has not had a professional fight in over a year, and I do not think very highly of his previous opponents. This fight is a pass.
Johnny Bedford (-240)  vs. Marcos Vinicius (+200) – Bedford's likely path to victory in this fight will be a top control decision. He will be attempting to do this versus a guy who has finished every guy he has beaten in his 20 career fights. Within those 20 finishes are 13 submissions. Interestingly, Bedford's 9 losses include 8 submissions. However, it would be a mistake to not look at this situation a bit closer. All 8 of those submissions took place earlier in Bedford's career, and he has not been finished in this manner since 2009. I cannot find a good reason to bet the underdog or the favorite here. My pick to win the fight is Bedford. The price is much too high to bet Bedford, and I cannot see enough value in the underdog to consider betting him.
Mike Pyle (-210) vs. James Head (+175) – In my opinion, Mike Pyle is better in every respect of the game than Head. He has more technical striking, better wrestling, and an overall better ground game. However, this does not mean that Head is completely defenseless against him. Pyle is somewhat known for being inconsistent in his career. He is also getting up there in age. Head has shown some improvement lately, beating Brian Ebersole as a big underdog. Head will most likely look to keep the fight on the feet and look for opportunities to strike with Pyle. I favor Pyle to win the fight, but cannot bet on him. I do not believe there is enough value on Head to consider putting money on him either. This fight is a pass.
Jonathan Brookins (+210) vs. Dustin Poirier (-250) – This line has seen some big movement, making Poirier an even bigger favorite in this bout. When I first heard the fight announced, I immediately thought it was a complete mismatch. It is actually very sneaky good booking done by Sean Shelby. Brookins will be facing an uphill climb in this fight, but it is definitely a winnable fight for him. He possesses a strength in wrestling that Poirier has had difficulties countering in his career. The big question of this fight will be: Can Brookins get Poirier to the ground and keep him there? I think he can. It may not be the most likely outcome of the fight, but it is certainly possible. The only real mistake I can see is betting this inflated line on Poirier. I will be playing Brookins at this price.
Melvin Guillard (-125) vs. Jamie Varner (+105) – This is another line that has flipped. I do not get the fascination bettors have with Melvin Guillard. There are so many reasons to bet against him, that I cannot possibly lay money on him. This is especially the case with him as a betting favorite. Melvin's most likely path to victory in this fight is catching Varner with his powerful punches and TKOing or KOing him. He certainly has the power to do this, but Varner has a very good chin. Varner has never been stopped via KO/TKO in his career. If he can withstand Guillard's initial onslaught, he should be able to take this fight. I can see Varner winning via submission, TKO, or decision. Guillard's issues are that he has a fading chin, poor gameplans, is overly aggressive, doesn't listen to his corner, and comes to fights overconfident. I will be looking to play Jamie Varner in this spot.
Pat Barry (+190) vs. Shane Del Rosario (-230) – The people who bet Del Rosario early probably had the right idea here. They were able to get him at a price close to -150. I favor him to beat Pat Barry, due to his more well-rounded overall game. Barry has little in the way of a ground game, and has had trouble in the past against opponents who also have no ground game. His fight against Lavar Johnson was very winnable. Barry had Lavar in the mount position, and instead of doing damage, he attempted a submission that failed. This allowed Lavar to get to his feet and knock him out. If the fight stays on the feet, I favor Barry slightly. Problem is: I don't know if Del Rosario will take it to the ground and implement a game plan against him. Del Rosario's background comes from kickboxing, and I could easily see this fight take place entirely on the feet. I am also cautious to bet on Barry, as he gives the appearance that he is not taking the fights he is in seriously. I am going to pass this fight at current prices.
Mike Ricci (-240) vs. Colton Smith (+200) – Mike Ricci has been getting nearly all of the hype going into this TUF 16 final. The stars seem aligned for him. His camp has been getting a lot of press due to GSP and Rory Mac's recent wins. Ricci is the more well rounded fighter here as well, with a greater ceiling than Smith. The problem that I see with Ricci is that he is almost certainly overvalued here due to hype, and that he has shown that he can be held down by wrestlers. Smith may be just the wrestler to do that. I do favor Ricci to win the fight overall, but the line is very skewed towards him. I will be playing Colton Smith at the decent plus number, and I will hope that stars are not aligned for the most talented prospect to come out of this season of The Ultimate Fighter.
Roy Nelson (-255) vs. Matt Mitrione (+215) – This is another fight that I looked at upon announcement and proclaimed "Wow! I am going to be all over Roy Nelson." Upon looking into it, I am reversing my knee-jerk reaction on this fight. Roy Nelson is just not very good. The wins he has are nearly all over lower-tier talent with the exception of Stefan Struve, who Roy was able to beat quickly. Struve is a young fighter, and has gotten much better in the past couple of years. Mitrione is no world-beater either, and has not beaten the best competition. I tentatively pick Roy Nelson to win this fight, but I love a bet on Mitrione in this spot. I think Mitrione is being almost completely discounted in this fight. Mitrione is not that bad, and Nelson is much worse than his name value brings.
Selective aggression is once again the key here. There are several underdogs being bet here, and the results should be interesting. My bets will be finalized within the next 20 or so hours, so be sure to follow me on twitter to see which bets are pushed through or if I change my opinion on a fight.