The Bellator 84 Weigh-In's took place on Thursday in Hammond, Indiana at the Horseshoe Casino and the fight card is now official with 11 bouts.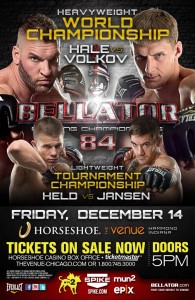 Tomorrow night's fight card will be headlined by the heavyweight tournament final as Rich Hale (240 lbs) meets Alexander Volkov (232.2 lbs) and the winner will become the Bellator heavyweight champion, since the title was vacated earlier this year by Cole Konrad when he retired.
Also on the main card on MTV2 and in commercial free high definition will be the lightweight tournament final as Dave Jansen (156) takes on Marcin Held (156) and the winner will be guaranteed a lightweight title shot.
The full Bellator 84 Weigh-In Results are below:
Main Card: (MTV2/EPIX2 – 8 p.m. ET)
Rich Hale (240) vs. Alexander Volkov (232.2)
Dave Jansen (156) vs. Marcin Held (156)
Daniel Vizcaya (186) vs. Jack Hermansson (185)
Louis Taylor (185.8) vs. Joe Vedepo (185.6)
Preliminary Card: (Spike.com – 6 p.m. ET)
Quinton McCottrell (170.4) vs. Belal Muhammad (170.2)
Eddie Castillo (266) vs. Dave Sharp (265)
Cliff Wright (155.8) vs. Christian Uflacker (155.2)
Felice Herrig (115.8) vs. Patricia Vidonic (117.8) *
Jerald Williams (126) vs. Joey Diehl (125.2)
Anton Talamantes (214.2) vs. Anthony Gomez (214)
Robert White (155) vs. Kenny Booker (158.2) **
* – Vidonic has two hours to lost 1.8 lbs to make weight
** – Booker has two hours to lost 2.2 lbs to make weight