The UFC on FX 6 Weigh-In's took place in Australia today and every fighter on the card made weight for tomorrows ten fight card.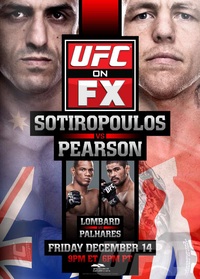 In the main event, TUF: The Smashes coaches 
George Sotiropoulos (155 lbs) and Ross Pearson (155 lbs) will square off in a five round lightweight bout.
Also, the main card will see the finals of TUF: The Smashes with Robert Whittaker (170 lbs) meeting Brad Scott (171 lbs) in the welterweight final and Colin Fletcher (155 lbs) taking on Norman Parke (155 lbs) in the lightweight final.
The full results for tomorrow night's card are below:
Main Card: (FX – 9 p.m. ET/6 p.m. PT)
George Sotiropoulos (155) vs. Ross Pearson (155)
Robert Whittaker (170) vs. Brad Scott (171)
Colin Fletcher (155) vs. Norman Parke (155)
Hector Lombard (186) vs. Rousimar Palhares (186)
Preliminary Card: (FUEL TV – 6 p.m. ET/3 p.m. PT)
Chad Mendes (146) vs. Yaotzin Meza (145)
Igor Pokrajac (205) vs. Joey Beltran (204)
Mike Pierce (171) vs. Seth Baczynski (170)
Ben Alloway (171) vs. Manuel Rodriguez (171)
Brendan Loughane (155) vs. Mike Wilkinson (155)
Nick Penner (205) vs. Cody Donovan (204)