The seventh season of Bellator MMA will wrap up tonight in Hammond, Indiana at The Venue at the Horseshoe Casino with Bellator 84.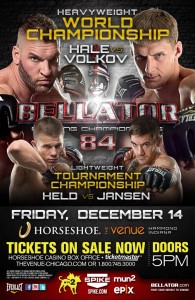 Tonight's preliminary card will begin at 6:30 p.m. ET on Spike.com and the main card will begin at 8 p.m. ET on MTV2 and in commercial free high definition on EPIX2.
The main card will have four fights on the card and will be headlined by Rich Hale (21-4-1) meeting Alexander Volkov (18-3) in the heavyweight tournament final and the winner will win the vacant Bellator title.
Also on the main card will be the lightweight tournament final as Marcin Held (15-2) takes on Dave Jansen (18-2) and the winner receive $100,000 and a guaranteed title shot.
Rich Hale (21-4-1) vs. Alexander Volkov (18-3)
When this season's heavyweight tournament started, neither fighter knew if they won the tournament they would win the vacant heavyweight title. Following the semifinal bouts, Bellator Chairman and CEO Bjorn Rebney told TheMMAReport.com that the tournament final would be for the vacant title.
Hale entered this tournament after being a light heavyweight for Bellator and move up in weight when making the light heavyweight limit of 206 pounds was no longer an option. During this tournament, both of his wins have come by TKO in the first round with victories over Mike Wessel and Thiago Santos.
Volkov made his Bellator debut in this tournament and is currently on a nine fight winning streak. In the quarterfinals of the tournament, he defeated Brett Rogers by decision and then scored a TKO victory over Vinicius "Spartan" Queiroz in the semifinals.
Both fighters are strikers and like to end the fight with their hands. Hale's last four wins are by TKO/KO in the first round and will be looking for a quick finish once again. The weakness of Volkov is his ground game and in particular when he is on his back. During his semifinal fight against Spartan, all he did was hold onto his opponents arms to get a stoppage. The longer the fight goes, it may be an advantage for Volkov.
Prediction: Rich Hale by TKO in the first round
Marcin Held (15-2) vs. Dave Jansen (18-2)
The winner of this lightweight tournament final knows that they will be looking at a title shot in 2013 and Held will be looking for his fifth victory in Bellator. Held has gone 4-1 in Bellator and is currently on a five fight winning streak. He is a submission specialist, which he has 8 wins by submission and is always looking for a leg lock.
Jansen entered Bellator after back to back losses in the WEC and has won five straight in Bellator. He is coming off a close split decision win over Ricardo Tirloni in the semifinals of this tournament, which many people believe that Tirloni did enough to win the fight.
This fight has the makings of being a ground fight as both fighters like to look for submissions. They have combined for 19 wins by submission and both of Jansen's career losses are by submission. If the fight ends up on the ground, Jansen will have to watch out for the leg locks of Held. On the other hand, Held will need to stop the takedown attempts of Jansen and not allow his opponent to bully him in the fight.
Prediction: Dave Jansen by decision
Daniel Vizcaya (6-2) vs. Jack Hermansson (5-0)
Vizcaya will be making his Bellator debut in this middleweight bout and he is currently on a three fight winning streak. All of his professional victories are by stoppage with four of them coming by submission. Both of his losses are by triangle choke submission in the first round.
Just like his opponent, Hermansson will be making his Bellator debut tonight in Indiana. All five of his wins are by stoppage with four of the five wins coming by knockout. Three of his wins have come in the first round and has only gone to the third round once.
Vizcaya likes to take the fight to the ground in his fights and Hermansson is a striker. With four of his wins coming by knockout, Vizcaya will look to put his opponent on his back and get away from the power of his opponent. If Hermansson does end up on his back, he will likely look for a triangle choke against Vizcaya.
Prediction: Jack Hermansson by TKO in first round
Louis Taylor (7-3) vs. Joe Vedepo (14-5)
This will be the second time that Taylor steps into the Bellator cage and he is a veteran of Strikeforce. He lost both of his fights in Strikeforce and is 1-2 in his last three fights. He is coming off a lost to Perry Filkins in January, which was a TKO lost in the first round.
Vedepo is a former UFC fighter and made his Bellator debut last month at Bellator 80, which he won by submission in the first round over Mike Bernhard. In the record book, it's labeled as a shin choke submission but the submission has been nicknamed the "Vedepo Choke" by Bellator commentator Jimmy Smith.
Vedepo is a finisher as he had only gone to the decision twice in his career and his last three wins are by submission. Taylor is also a fighter that does not go to decision, with only one of his fights going the distance and three of his last four wins are by TKO/KO.
Prediction: Vedepo by submission in first round