The UFC returns to Australia tonight for UFC on FX 6 from the Gold Coast Convention and Exhibition Centre in Broadbeach, Queensland, Australia and will serve at the finale for TUF: The Smashes.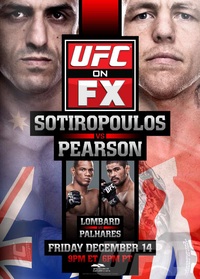 The action will start at 6 p.m. ET/3 p.m. PT with the preliminary card on FUEL TV with six fights and the final four fights will take place on the main card on FX at 9 p.m. ET/6 p.m. ET.
The main card on FX will feature the lightweight and welterweight finals of the reality show and will be headlined by a five round lightweight bout as George Sotiropoulos meeting Ross Pearson.
Also on the main card will be former Bellator champion Hector Lombard as he will be looking for his first UFC victory against heel hook specialist Rousimar Palhares.
George Sotiropoulos (14-4) vs. Ross Pearson (15-6)
This is a fight between the two coaches of TUF: The Smashes and their rivalry played out during the reality show. Sotiropoulos is a TUF alum and started his UFC career with seven straight victories. However, he is currently lost two straight fights and this will be his first fight since July of last year.
Pearson is returning to the lightweight division after going 1-1 as a featherweight and is coming off a knockout lost to Cub Swanson at UFC on FX 4. After winning his first three fights in the UFC, which included winning TUF 9, he has gone 2-3 with two of the losses coming by stoppage.
Sotiropoulos likes to take the fight to the ground and work his submission game. On the other side, Pearson is a striker and looks for a knockout. During his recent losing streak, the weakness of Sotiropoulos has been his chin and Pearson will be looking to test his chin.
Prediction: Ross Pearson by TKO in second round
Robert Whittaker (9-2) vs. Brad Scott (8-1)
This will be the welterweight final for TUF: The Smashes with Whittaker being a member of Team Australia and he has won two of his last three fights. All of his wins are by stoppage and he has only been out of the second round once in his career.
Scott was a member of Team UK and is currently on a six fight winning streak. His only career lost came by submission and three of his last four wins have come in the first round. He has only gone to the third round once in his career and has never gone the distance.
Whittaker should have the advantage in the striking portion of the fight, but Scott may end up looking to take the fight to the ground and force Whittaker to fight off his back.
Prediction: Robert Whittaker via TKO in the second round
Colin Fletcher (8-1) vs. Norman Parke (16-2)
This will be the lightweight final of the reality show and both fighters were members of Team UK. Fletcher is currently on a four fight winning streak and three of those wins are by submission. Overall, seven of his eight victories are by submission and has only gone the distance once in his career.
Parke is currenlty on a six fight winning streak and has won 10 of his last 11 fights and 12 of his 16 career wins are by submission. Just like Fletcher, he has only gone to a decision once in his career and both of his losses are by submission.
Fletcher is known as "The Freakshow," but don't let his attire fool you. He is a talented lightweight fighter that uses his length to overwhelm his opponent. Parke will have to get on the inside and not allow Fletcher to use his length.
Prediction: Colin Fletcher by decision
Hector Lombard (31-3-1, 1NC) vs. Rousimar Palhares (23-4)
Lombard will be looking for a better performance in this fight than he had at UFC 149 against Tim Boetsch, which he lost by split decision. It was his first lost since 2006, which was a decision defeat to Gegard Mousasi at Pride 13.
Palhares has gone 7-3 in the UFC and his three losses have come against Dan Henderson, Nate Marquardt and Alan Belcher. Prior to his lost against Belcher, he had won three in a row with two of the wins coming by heel hook submission. He is known for his heel hook submission, which he has won six of his fights by heel hook.
Lombard will look to stay away from the ground against Palhares and keep the fight standing. Palhares will need to get the fight to the ground to be able to get the victory tonight.
Prediction: Hector Lombard by TKO in third round