Bellator MMA will be moving to Spike TV in January and the organization announced today during a media conference that they will be moving to Thursday night's at 10 p.m. ET in 2013 with the first show set for January 17th.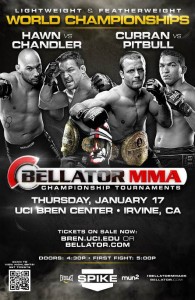 The first show will come from The University of California's Bren Center in Irvine, California and will have two title fights on the card.
The main event of the fight card will be Michael Chandler making his first Bellator lightweight title defense against season six tournament winner Rick Hawn.
Also, Pat Curren will return from injury to defend the Bellator featherweight title against season four tournament winner Patricio "Pitbull" Freire.
"Our Thursday, January 17th premiere on Spike will be an incredible night for MMA fans; two epic world title fights and an amazing collection of tournament fights" said Bellator Chairman & CEO Bjorn Rebney. "Spike TV is the home for MMA and this event will be a great way to kick off that homecoming."
In today's announcement for the debut show on Spike TV, Rebney did not make any more fight announcements and tickets for the January 17th show are now available on Ticketmaster.com.
Stay tuned to TheMMAReport.com for more updates on the Bellator MMA debut show on Spike and today's media conference call is below.