Last week's Bellator 83 card was scheduled to be headlined by Rad Martinez taking on Shahbulat Shamhalaev in the featherweight tournament final, but the fight was canceled by the commission when Shamhalaev came down with food poisoning.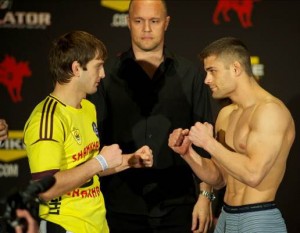 Bellator Chairman and CEO Bjorn Rebney stated during the television broadcast that the plan was to have them fight this week in the season seven finale in Hammond, Indiana.
However, Rebney said today in a media conference call that the fight will not take place this Friday night because Martinez will not be able to compete.
"I spoke to soon at the show last Friday," Rebney said. "Rad is saddled with responsibilites that are admirable, but none of us can probably understand the depth and level what he has to deal with. Literally, Rad is not in a position to be able to fight. Not because he is not ready, not because he is not in incredible shape, not because he didn't prepare but because he simply has to take care of his dad."
Rebney did not say if there is a timetable for the fight between Martinez and Shahbulat to take place in season eight, which will run for 12 weeks starting on January 17th. Once the fight between the two featherweights take place, the winner will have to wait for Daniel Straus to get his title shot, since he won the Bellator featherweight tournament during the sixth season.