This past weekend was a slightly positive one for me. The picks that I made on The MMA Analysis Podcast, and my betting columns on this site, went a combined 15-6 between the two cards.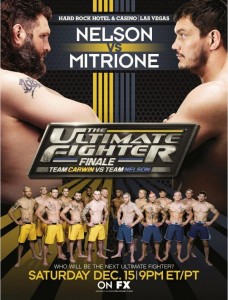 In addition, my regular sized bets went 6-3, and my smaller plays (done at approx. 1/10th of the unit size of regular bets) went 2-3. In this column, I will review the actual wagers made and look for any improvements that need to be made in my selections or overall betting strategy.
The following plays only represent my regular-sized bets. My smaller plays will be reviewed  at the end of the column.
Wager #1: Norman Parke (+105) – My first bet was my most successful one, both in prediction and execution. I described the fight almost exactly the way it went down on The MMA Analysis, and I was able to get the price I wanted for the fight. Satisfying win.
Wager #2: Seth Baczynski (+305) – This particular bet was the first of my two biggest failures over the weekend. I made the correct pick, even describing Baczynski as having little chance in the fight. I predicted the fight to be filled with takedowns and clinch work by Mike Pierce, and that is exactly what happened. I became enamored with the rising line, and made a big mistake in betting on a dog that had little chance to win. My execution was off as well, as I didn't even catch the best price on Baczynski. This bet was a colossal failure on my part.
Wager #3: Hector Lombard (-220) – I lost a good deal of money on Lombard in his UFC debut. As a result, I was very hesitant to believe that he was going to show up on Friday night. I went back and forth throughout the day, and ended up placing a regular-sized bet on him to win, approximately 5 minutes before the fight started. When it came down to it, I could not see a way that Palhares could win this fight. A decent win, but not spectacular because I was not able to get the best line. I almost pulled the trigger at -200, but it took me a little longer to work the fight out and commit to a bet.
Wager #4: Tim Elliott (-160) – I correctly broke down the fight and predicted Elliott as the better overall fighter. This was a good win, but not perfect. Even after all of the adversity that Elliot went through during the fight, it was clear that this was a HUGE mismatch. I do regret not seeing it as such prior to the fight happening. Hindsight being 20/20, I would have liked a bigger bet here. This is an example of where I could have had a bit more confidence in my analysis.
Wager #5: Rustam Khabilov (-230) – This fight is very similar to the Tim Elliot bout. I thought that the Russian would overwhelm Pichel with his grappling, and he did. More confidence in myself would have led to a larger bet. Good win.
Wager #6: Mike Ricci (-230) – Betting on someone who has not shown good takedown defense in his career versus a guy who does nothing but wrestle, was my second of two colossal failures on my part. The stars seemed to be aligned for Ricci to win this. He was the more well-rounded fighter, more experienced in terms of overall fights and quality of competition, and he comes from a great camp. However, Ricci had absolutely nothing for Colton Smith. After the first takedown in round 1, I knew I made a big mistake.
Wager #7: Mike Pyle (-195) – This was a moderate victory for me. I was not able to get the best line, but was on the right side. Pyle closed at -130, which was way better than I could have ever predicted. I can't beat myself up over this play.
Wager #8: Reuben Duran (-130) – Duran was completely steamrolled by Hugo Viana in this fight. I predicted that it would be a competitive bout, with Duran having slight advantages in range and variety of strikes thrown. Unfortunately, it looked as if Duran didn't show up to fight at all. At the same time, Viana looked incredible in his boxing-centered attack. Sometimes you are just wrong. I don't regret anything here. A standard loss.
Wager #9: Pat Barry vs. Shane Del Rosario – Under 1.5 Rounds (-205) – I was going back and forth about which side I was going to play here. I liked Del Rosario's overall skillset more than Barry's kickboxing-only approach, but I did not like the price for a standard play. I was also hesitant to bet Barry, even at plus money. I was not even thinking of the over/under in this bout until another gambler brought it up. After pondering it for a couple of hours, I placed a normal-sized bet on this. Good win. I need to be looking at over/under bets more often in the future.
Results: 6-3 on regular bets for a gain of 1.45 units.
Smaller bets and wrap-up: In addition to my regular plays, I must add that I placed a total of three smaller wagers. Two of them were impulsive, where I was not confident in a particular side, but wanted to play them small for a fun-sized bet. These bets serve two purposes: 1) I maybe getting actual value on the line. 2) This satisfies my urge to "gamble" without hurting myself too bad in the process. I have done these types of bets only on underdogs, and play them at 1/10th normal unit size. I played Brad Scott (+185) and George Sotiropoulos (+170), losing both for a loss of .2 units.
My last small bet was a reverse action play for a total of .5 units at risk. The three fighters I had in it were Shane Del Rosario, Roy Nelson, and Dustin Poirier. Because two out of the three won, I was able to recover almost all of the money invested for a small overall loss (-.07 unit). I was doing this bet as kind of a test, because I had not previously used this method of betting before. I will be looking to incorporate this method in the future.
Overall Results: 8-6 on all bets combined for a gain of 1.18 units.
Lessons Learned and Possible Alteration of Betting Strategy: 1) Eliminate smaller, impulsive bets on tempting underdogs. 2) Trust in my own opinion more. 3) Pull the trigger more readily on spots perceived as large advantages.