Since UFC President Dana White announced that Georges St-Pierre wanted to fight Nick Diaz next, MMA fans have voiced their opinions on the decision to fight Diaz over Anderson Silva and Johny Hendricks.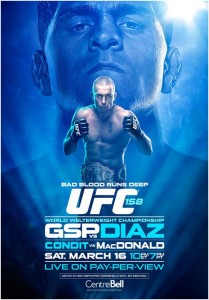 St-Pierre will be facing Diaz in the main event of UFC 158 on March 16th in Montreal and explained this past weekend in Las Vegas on why he decided he wanted to fight the former Strikeforce welterweight champion next.
"As an athlete, I want to give fans the fight they want to see," St-Pierre said. Logically, I just finished my fight with Carlos Condit. The last fight between Carlos and Nick was controversial. I truly believe Carlos won, but some people believe Nick won. A lot of things have been said between us. This is the fight everyone wanted to see a year ago, I want big fights. Right now it was logical to fight Nick Diaz. I'm fighting for myself first and I'm fighting for fans, for the show and for the UFC and I wanted to make this fight happen. I want this fight."
One of the people that does not agree with St-Pierre's decision to fight Diaz is Hendricks. He is considered to be the number one contender in the UFC welterweight division and has voice his displeasure that Diaz is getting the title shot over him on Twitter and various interview.
Hendricks believes that St-Pierre is ducking him, but the UFC welterweight champion made it clear that he is not ducking Hendricks.
"I'm not ducking him," he said. "I can't split myself in half. A lot of people want to fight me. Anderson Silva, Johny Hendricks, Nick Diaz. Everyone is calling me. They want the big fight and the Pay-Per-View. I'm going to take one fight at a time. The fight fans want to see the most right now is Nick Diaz. For me right now it's the fight I can do the fastest is Nick Diaz. I don't have to gain weight. It's right there. He's coming out of his suspension. That's a fight and I want the best challenge. Johny Hendricks is a good challenge and is an amazing fighter, but I saw his fight with Josh Koscheck and it was very close. Some people give it to Josh. But he won in a very good fashion in his last fight. For me I was more motivated to fight Nick than Johny Hendricks. I know Johny is going to smack talk to motivate me, but right now I'm focused on Nick Diaz and we'll see what happens later."
Hendricks had maintained since UFC 154 that he would sit out and wait for St-Pierre. However, he has accepted a fight against Jake Ellenberger, which will take place at UFC 158 on the main card. There are no guarantees for Hendricks that he would face the winner of St-Pierre and Diaz, if he defeats Ellenberger. If St-Pierre walks away with the title at UFC 158, he could elect to face Anderson Silva in a super fight and Hendricks would once again have to wait for a potential title shot.