During this week's edition of "The MMA Report Podcast," Bellator MMA Chairman and CEO Bjorn Rebney joined the show to recap recently completed seventh season and preview the upcoming season, which begins on January 17th.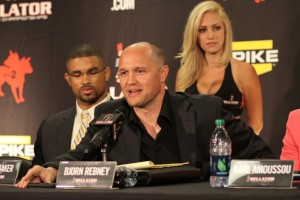 Also, Rebney gives an update on when the season seven featherweight and lightweight finals will take place in season eight with Rad Martinez facing Shahbulat Shamhalaev in the featherweight final and Dave Jansen taking on Marcin Held in the lightweight final.
Rebney's full interview from this week's show is below and the full show is available under Podcast, iTunes and Stitcher Radio.