The biggest free agent in mixed martial arts right now is former Bellator lightweight champion Eddie Alvarez and the UFC is waiting to hear if Bellator has matched the offer made by the UFC.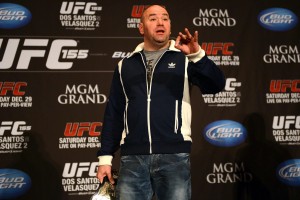 UFC President Dana White was asked about the situation yesterday in Las Vegas and he did not say much on the situation, but said he expects it to get ugly.
"I don't know if I can talk about it," White said. "It's going to get ugly."
Bellator received the contract last week and Bellator Chairman and CEO Bjorn Rebney told TheMMAReport.com one week ago that the organization had not made a decision on whether to match the UFC offer.
"The decision has not been made yet and we are reviewing the contract,with my team in house, our legal team in house and also discussing with our partners at Spike," Rebney said last week.
Rebney went on to say that he felt that they would be able to make a decision soon on whether they would match the contract or allow Alvarez to head to the UFC.
Alvarez (24-3) is one of the first fighters that Rebney signed to Bellator when he started the organization a couple of years ago. He became the first Bellator lightweight champion when he defeated Tony Imada in the final of the inaugural lightweight tournament during the first season of Bellator. He would win his first seven fights in Bellator before he was defeated by Michael Chandler at the end of 2011, which is considered one of the best fights of last year.
If Alvarez is resigned by Bellator, he could end up getting a rematch against Chandler as the company recently announced a championship rematch clause that allows fighters to get a rematch for a title instead of having to do back into the tournament to get another shot at the title.