Following the conclusion of the UFC 155 pay-per-view, UFC President Dana White went on FUEL TV to give his thoughts on Cain Velasquez regaining the UFC heavyweight title with a unanimous decision victory.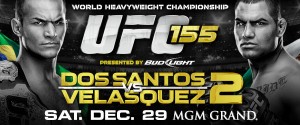 White told FUEL TV reporter Ariel Helwani that he would have never thought that the main event would go the distance
"I told everyone that I was talking to back there that this fight wouldn't go five rounds," White said. "I thought either one of them could win. You saw Cain not afraid to trade with Dos Santos early on, but you saw him take him down. But you also saw how tough and how much heart Dos Santos had. From what I am hearing his jaw was broken in the second round and he kept going on, he is tough."
Velasquez nearly finished the fight in the first round and attempted to end the fight with strikes on the ground, but referee Herb Dean did not stop the fight. Even thought White felt that Velasquez could have finished the fight, he did not want to criticized the performance of the new champion.
"The guy went five rounds so the answer is probably no. Cain probably could have stopped it in the second round, I don't want to criticize Cain, I'm just saying he may have been able to go a little harder there to finish it. But, he was fighting a great fight, playing it a little safe and he really wanted that belt."
During the post fight press conference, White said that Dos Santos was sent to the hospital and may have suffered a broken jar. Even with the potential injury, White said a rematch between Velasquez and Dos Santos is possible.
"When I walked out of the ring everyone was screaming at me for a rematch. It could happen."