Michael Bisping has been wanting a title shot and he will get his wish if he defeats Vitor Belfort next month at UFC on FX 7 in Brazil.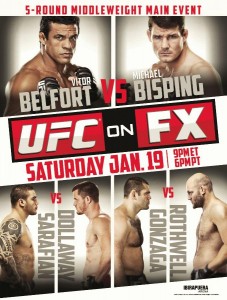 UFC President Dana White announced the news during the UFC 155 Post Fight Press Conference when he was asked about the future in the middleweight division.
"If Bisping wins, he'll get the shot," White said.
Bisping (23-4) has won five of his last six fights, with the only lost during this stretch against Chael Sonnen in a number one contenders fight at the beginning of the year.
Following his lost to Sonnen, he returned at UFC 152 and defeated Brian Stann by decision. After the fight, Bisping felt that a title shot should be in the future for him and all he will have to do is defeat Belfort next month.