The injuries continue to hit the UFC as former light heavyweight champion Forrest Griffin has pulled out of his co-main event fight against Phil Davis because of a knee injury.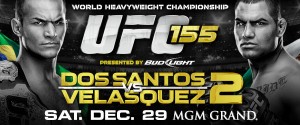 UFC President Dana White announced the news on Twitter today and stated that Griffin has a MCL tear and ACL strain.
"Forrest Has MCL tear and ACL strain," White tweeted. 20 cc's of blood removed from his knee and the saga continues at the UFC."
This is the fourth fighter to be pulled from the UFC 155 card since the UFC announced the event. Griffin, Chris Weidman and Gray Maynard all pulled out of the card with an injury and Chael Sonnen was moved off the card to be a coach on the next season of "The Ultimate Fighter" against Jon Jones.
The UFC will now look to find a new opponent for Davis, who is coming off a victory over Wagner Prado at UFC 153 and it was his first win since earlier 2011 when he defeated Antonio Rogerio Nogueira by decision.
Stay tuned to TheMMAReport.com on who the UFC books to fight Phil Davis at UFC 155.