The UFC certainly had its fair share of problems during the year of 2012. Major headlines have been dominated by bad news such as injuries, positive drug tests, event cancellations, and ratings woes. It certainly has given critics many bullets to fire at the UFC.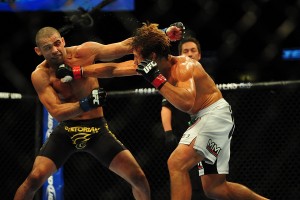 Even with all of these major attention-grabbing headlines, there were some misfortunes endured throughout the year that flew under the radar.
While none were as damaging as cancelling an entire pay-per-view (with the possible exception of the first and last entries on this list), they still represent uncontrollable aspects of the business that did not go the way of the UFC.
Jon Jones' Failure to Become a Mainstream Superstar:
Don't be fooled by the title for this entry. Jon Jones is a star. He is clearly one of the best fighters on the planet. He had perhaps the best calendar year ever for a UFC fighter in 2011, and rode that success to another two successful title defenses in 2012. Unfortunately, Jones has been plagued by embarrassing quotes, a reversal of his stance on fighting Chael Sonnen, a DUI, the UFC 151 cancellation, and an overall lack of charisma.
Some of these things are Jones' fault, and others are not. It's hard to find personal fault with Jones in his lack of charisma and the cancellation of an entire pay-per-view, but it is easy to find fault in his other actions. The issues surrounding Jones have combined to lessen his star power.
The momentum gained from his fights is unparalleled, and the hype surrounding his fighting process is second to none. Many fans and media would pick him to beat Anderson Silva if they ever met each other in the octagon. As it stands right now, Jones is a great fighter who has a multitude of problems outside the cage. It is hard not to wonder if he could have been so much more.
Carlos Condit's Meaningless Belt:
What was the point of the interim welterweight championship? I have thought about this a bit, and have come up with no answers. With the announcement of Nick Diaz vs. GSP, it really hammers home the point that the belt was completely meaningless. Even worse, we all paid to see Diaz fight Condit in a fight that didn't matter. If Nick Diaz would have won, he still would have tested positive and been suspended. Would GSP have waited around, after being out for so long already, just to fight Diaz? Doubtful. Dana White likely would have stripped the belt/shot at GSP from Diaz anyway.
The interesting aspect of this whole situation is that the UFC could have avoided it if Carlos would have defended the belt during GSP's absence. Instead of being a meaningful title, it was just a glorified number one contender placeholder belt. It is doubtful that the "Champion vs. Interim Champion" dynamic added anything to the UFC 154 main event, both in terms of dollars or fan interest.
Monkey Wrenches in the Rise of Chris Weidman:
There is no current challenger for Anderson Silva's middleweight championship. The UFC is probably hoping that Michael Bisping defeats Vitor Belfort in order to become a clear-cut number one contender. Chris Weidman seemed to be the guy who would be destined for a shot earlier this year when he completely destroyed Mark Munoz. Media and hardcore fans have been overwhelmingly in favor of seeing Weidman take on Silva. There are a good amount of people who believe Weidman will be the one to dethrone the champion as well, believing his wrestling and finishing ability will give him the edge.
The problem with Chris Weidman's rise is that his biggest victory was not seen by many people. The bout with Munoz occurred on Fuel TV, a channel that many UFC fans do not have because their cable providers do not carry it.
The UFC looked to remedy this issue by pairing Weidman up with Tim Boetsch to fight on the recently completed UFC 155 card. Weidman was heavily favored by oddsmakers against Boetsch, with the odds being set at -355/+265. With a likely win in store for Weidman on one of the biggest pay-per-views of the year, his future chances for a bout with Silva looked promising.
Like so many other important matchups in 2012, this one was derailed by injury. Luckily, we will have the opportunity to see Weidman fight again in 2013. It will be very interesting to see who he is matched up with, now that Boetsch is coming off a loss.
Urijah Faber is Defeated by Renan Barao:
The entire chain of events that made UFC 149 happen the way it went were a disappointing mess. Faber's rematch to complete the trilogy was highly anticipated after he held his own against Dominick Cruz at UFC 132. No champion has had it rougher than Cruz, who has been on the shelf for over a year, with his return date in 2013 up in the air. The result of the backup fight, Faber vs. Barao, was surely a negative to the overall business of the UFC. Barao won in a fight that was booed by fans in an event that was universally panned by critics, fans, and even the president of the UFC.
Clearly Faber is a more marketable champion that Barao, a fighter who many casual fans are completely unaware of. The UFC clearly has to be unhappy with the state of the bantamweight division title picture.
Chael Sonnen Fails to Capture the UFC Middleweight Title:
The better man won on July 7th, 2012. Anderson Silva's victory was so decisive, that Sonnen was forced to leave the division in order to get another title shot. Anything other than a Sonnen victory was surely going to end this rivalry, and it did. UFC 148 was utterly unremarkable beyond this fight, and it still did big business. In fact, the only fight that could have been bigger than this one in 2012 (or early 2013), would have been a trilogy fight.
Chael Sonnen as champion would have been an interesting situation. Like him or hate him, he does bring attention to the sport and to his fights. He will most likely be remembered as Silva's foil, and one of the most entertaining trash-talkers in UFC history. Sonnen fans would likely get to listen to him run his mouth on an even more frequent basis, rejoicing in his wit and confidence. Even those who dislike Sonnen and his antics would likely be pumped up to buy a trilogy fight in order to see the possibility of Silva winning and shutting down Sonnen's title run.
This trilogy would have only been possible if Sonnen was able to accomplish what he did at UFC 117, but for approximately a minute and a half longer. It didn't, and the UFC (as well as both fighters) likely missed out on what could have been the legit "biggest fight in UFC history."