During the previous seasons of Bellator MMA, the organization had not released the brackets for their tournaments, but that is changing for the upcoming eighth season.
Bellator MMA  has announced today that the tournaments in the upcoming season eight will feature a bracketed real sport tournament format throughout every weight class, which will allow the fighters and fans to track the progress of the twelve week tournament.
"At Bellator, there's never been a matchmaker sitting behind a desk in a shiny suit deciding who fights who for the title," said Bellator Chairman & CEO Bjorn Rebney. "The origin of Bellator was to provide a seamless connection between real sports competition and mixed martial arts, and I believe we have taken that to the next level with a true tournament bracket format."
In today's announcement, Bellator MMA has released the bracket for the upcoming light heavyweight tournament, which will begin with three of the quarterfinal bouts on January 17th.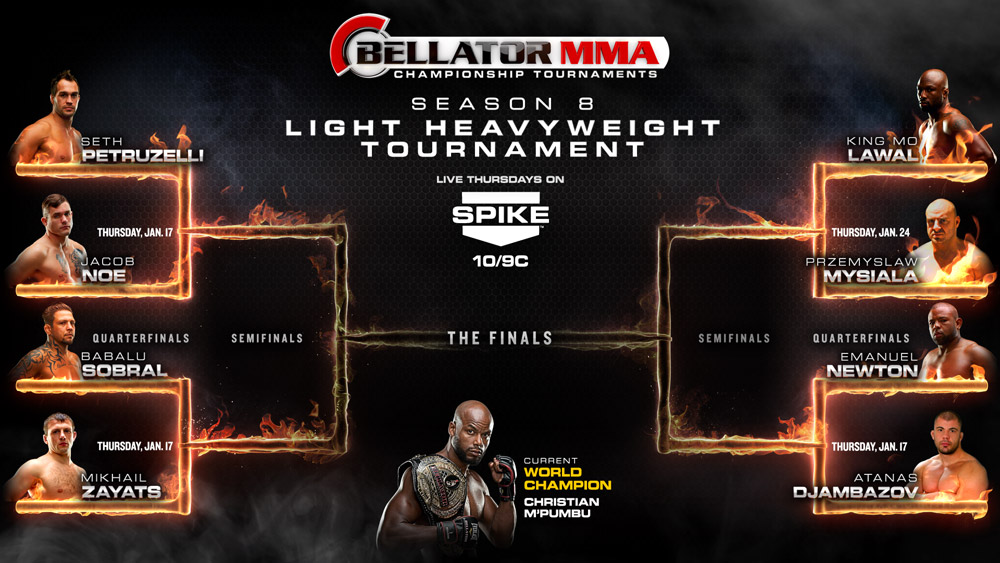 The January 17th card will come from the Bren Center in Irvine, California and it will be the first Bellator fight card on Spike TV. This fight card will feature two title fights with Michael Chandler defending the lightweight title against Rick Hawn and Pat Curran defending the featherweight title against Patricio Pitbull.
The three light heavyweight tournament quarterfinal bouts that will be on the January 17th card will be Renato "Babalu" Sobral (37-9) vs. Mikhail Zayats (19-6), Seth Petruzelli (14-6) vs. Jacob Noe (9-1) and Emanuel Newton (18-7) vs. Atanas Djambazov (17-2).
The other quarterfinal bout will take place from following week as former Strikeforce light heavyweight champion Muhammed "King Mo" Lawal (8-1) will make his Bellator debut against Przemyslaw Mysiala (16-7).
This will be the first Bellator tournament for seven of the eight participants as the only fighter in the field to previously be in a Bellator tournament is Newton. He was a semifinalist in the light heavyweight tournament during this years Summer Series and is happy to get another shot in the tournament.
"Southern California has always been home to me, so to be fighting in Irvine under the Bellator banner is a huge honor for me," Newton said. "I love this organization, and to have another chance in the tournament is all I could ask for. I feel like I was robbed in my last fight, so this tournament is all about redemption for me. This is an incredibly tough division, and I'm ready for the challenge that starts January 17th on Spike."
The winner of the tournament will be guaranteed a title shot against the light heavyweight champion, which the belt is currently held by Christian M'Pumbu. He is expected to make his first title defense in season eight against Attila Vegh, who won the Summer Series tournament earlier this year.