Ultimate Fighter 15 winner Michael Chiesa was scheduled to face Marcus LeVesseur on the preliminary card of Saturday's UFC on FOX 5, but he has been pulled from the fight due to an illness.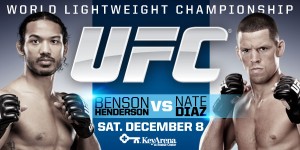 UFC officials announced the news overnight and did not say what type of illness that Chiesa has the has forced him off the card.
Also, the UFC did not say if LeVesseur will stay on the card.
This is the second injury to hit the UFC on FOX 5 preliminary card in the last week as Lavar Johnson pulled out of his fight with Brendan Schaub with an injury. When Johnson pulled out, the bout between Chiesa and LeVesseur was set to be the final fight on the preliminary card on FX.
If the UFC does not find a replacement for LeVesseur, which seems unlikely at this point, the fight card will now have eleven fights.
The current UFC on FOX 5 card is below:
Main Card: (FOX – 8 p.m. ET)
Benson Henderson (16-2) vs. Nate Diaz (16-7)
Mauricio Rua (21-6) vs. Alexander Gustafsson (14-1)
BJ Penn (16-8-2) vs. Rory MacDonald (13-1)
Mike Swick (15-4) vs. Matt Brown (17-11)
Preliminary Card: (FX – 5 p.m. ET)
Yves Edwards (41-18-1) vs. Jeremy Stephens (20-8)
Raphael Assuncao (17-4) vs. Mike Easton (13-1)
Ramsey Nijem (7-2) vs. Joe Proctor (8-1)
Daron Cruickshank (11-2) vs. Henry Martinez (9-2)
Preliminary Card: (Facebook – 3:30 p.m. ET)
Dennis Siver (20-8) vs. Nam Phan (18-11)
Scott Jorgensen (13-6) vs. John Albert (7-3)
Tim Means (18-3-1) vs. Abel Trujillo (9-4)