Patrick Cote announced earlier this week that he would be moving down in weight to the welterweight division and he will face former Strikeforce fighter Bobby Voekler in his UFC welterweight debut at UFC 158.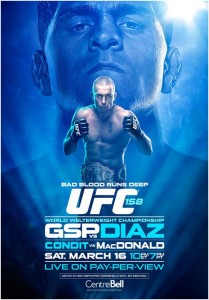 UFC officials announced the fight on Friday and it's not known at this time where the fight will be placed on the fight card.
Cote (18-8) recently returned to the UFC after winning four fights outside of the organization. Upon his return, he went 1-1 with his win being a disqualification win at UFC 154 against Alessio Sakara.
The UFC had announced that Cote and Sakara would have their rematch at UFC 158, but Sakara had to pull out of the fight. Once Sakara pulled out of the fight, Cote announced his move to welterweight.
Voelker (24-8) comes to the UFC after being in Strikeforce an is currently on a three fight winning streak. He went 4-1 in Strikeforce, which included back to back victories over Roger Bowling and both wins were by TKO in the second round.
UFC 158 takes place on March 16th from the Bell Centre in Montreal and will be headlined by Georges St-Pierre defending the UFC welterweight title against former Strikeforce welterweight champion Nick Diaz.