After being rumored that Strikeforce's January 12th fight card would be the final show on Showtime, Strikeforce has officially announced that this will be the final event.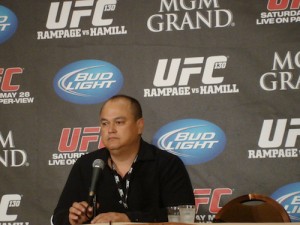 Strikeforce made the announcement via a press release on Thursday and Strikeforce CEO Scott Coker said they have loaded the January 12th fight card from Oklahoma City since it will be the final event.
"Since 2009, Showtime has been a great partner and we appreciate its support of Strikeforce and our athletes," Coker said.. "For our final event, we've loaded the card with some outstanding fights. This is going to be a memorable night for the sport of mixed martial arts."
Along with Coker making a statement in today's press release, Showtime Sports Executive Vice President and General Manager Stephen Espinoza issued a statement about the end of Strikeforce's run on Showtime.
"We are proud of our association with Scott Coker and the entire Strikeforce team," said Espinoza.  "From Gina Carano to Ronda Rousey, Fedor Emelianenko to Daniel Cormier, Nick Diaz to Gilbert Melendez, Showtime Sports and Strikeforce have built some of the biggest stars in the sport and have produced many of the most watched and most intriguing fights in the history of MMA. We look forward to another night of competitive and explosive Strikeforce fights on Showtime on January 12 in OKC."
The January 12th card will come from the Cheasapeake Energy Arena in Oklahoma City and will be apart of Showtime's free preview weekend from January 11th-13th. The preliminary card will be shown on Showtime Extreme at 8 p.m. ET/PT and the main card will air on Showtime at 10 p.m. ET/PT.
The card will be headlined by Strikeforce welterweight champion Nate Marqurdt making his first title defense when he is challenged by Tarec Saffiedine and Daniel Cormier will face Dion Staring in the co-main event.
Tickets for this Strikeforce event are currently on sale and tickets are priced at $150, $100, $70 and $50. Tickets are available at the Chesapeake Energy Arena box office, all Ticketmaster locations, at Ticketmaster.com or 1-800-745-3000.
The current Strikeforce: Marquardt vs. Saffiedine card is below:
Main Card: (Showtime – 10 p.m. ET/PT)
Nate Marquardt (35-10-2) vs. Tarec Saffiedine (13-3)
Daniel Cormier (10-0) vs. Dion Staring (28-7)
Josh Barnett (31-6) vs. Nandor Guelmino (11-3-1)
Gegard Mousasi (32-3-2) vs. Mike Kyle (19-8-1)
Jacare Souza (16-3) vs. Ed Herman (20-8)
Preliminary Card: (Showtime Extreme – 8 p.m. ET/PT)
Pat Healy (28-16) vs. TBA
Roger Gracie (5-1) vs. Anthony Smith (17-8)
Tim Kennedy (14-4) vs. Trevor Smith (10-2)
KJ Noons (11-5) vs. Ryan Couture (5-1)
Jorge Gurgel (14-8) vs. Adriano Martins (23-6)
Estevan Payan (13-3) vs. Michael Bravo (7-3)