The Ultimate Fighter 16 Finale Weigh-In's took place on Friday afternoon in Las Vegas at the Hard Rock Hotel and Casino and every fighter on the card was on weight.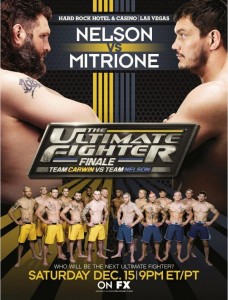 Tomorrow night's main card will be shown on FX at 9 p.m. ET/6 p.m. PT and will be headlined by a five round heavyweight fight as Roy Nelson (252 lbs) takes on Matt Mitrione (257 lbs).
The main card will also see the final in this seasons's "The Ultimate Fighter" as Colton Smith (170 lbs) meets Mike Ricci (171 lbs), who will be looking to be the first Canadian winner of the reality show.
The full TUF 16 Finale Weigh-In results are below:
Main Card: (FX – 9 p.m. ET)
Roy Nelson (252) vs. Matt Mitrione (257)
Colton Smith (170) vs. Mike Ricci (171)
Pat Barry (238) vs. Shane Del Rosario (244)
Melvin Guillard (156) vs. Jamie Varner (156)
Dustin Poirier (146) vs. Jonathan Brookins (146)
Preliminary Card: (FUEL TV – 7 p.m. ET)
Mike Pyle (171) vs. James Head (171)
Johnny Bedford (136) vs. Marcos Vinicius (136)
Vinc Pichel (156) vs. Rustam Khabilov (155)
TJ Waldburger (170) vs. Nick Catone (171)
Preliminary Card: (Facebook – 5:35 p.m. ET)
Reuben Duran (136) vs. Hugo Viana (135)
Mike Rio (156) vs. John Cofer (156)
Jared Papazian (126) vs. Tim Elliot (126)