Later today, UFC 155 will kick off with three prelim fights that will be shown on Facebook. Each of these three fights has an interesting dynamic or fighter featured, and should be fun to watch.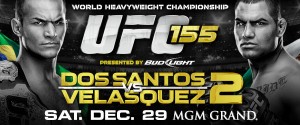 In this column we will look at current betting lines for each of the three fights. Lines will be pulled from 5Dimes at approximately 1 a.m. ET.
Chris Cariaso (+140) vs. John Moraga (-160): It is unfortunate that this fight is so far down the prelims, because it looks to be a great fight. Cariaso is a more known quantity in the UFC, with a well-rounded skill set, and a few good wins under his belt. Moraga is coming off of some forward momentum himself, having defeated Ulysses Gomez by brutal knockout in his UFC debut.
I favor Moraga to win this fight due to his superior wrestling, and increased ability to finish fights. If the fight stays standing, it should be pretty even. However, I give the grappling advantage to Moraga. Moraga comes from a wrestling background and should be able to secure takedowns against Cariaso, or use his clinching abilities to do damage against the cage.
Moraga opened up as the underdog, and I was able to snag him at +120. I love him at the underdog price, but do not like a bet at current prices. I recommend a pass here. Cariaso is no scrub, and this should be a close fight. Moraga is a finisher, which gives him additional chances to win the fight, while Cariaso's most likely path to victory is by decision.
Leonard Garcia (+325) vs. Max Holloway (-400): Garcia's fan-pleasing brawling style may be no more in the UFC following this bout. Holloway is heavily favored, with good reason. He is by far the more technical and capable striker between the two. He should be able to use Garcia's blind aggression against him, and pick him apart for three rounds, or even induce a stoppage.
There really isn't much more to say about this fight other than the above. I definitely like Holloway to win the fight, but am not ready to lay that kind of steep price on the kid. On the flip side, I just can't back a guy like Leonard in this fight, even at +325. I will watch this as a fan.
Phil De Fries (+305) vs. Todd Duffee (-365): In this bout, a returning Todd Duffee will look to get his second go-round in the UFC off to a good start by beating the young submission grappler, De Fries. It is definitely an interesting matchup that will tell us a lot about where each fighter is and better define their capabilities.
I do feel pretty strongly about avoiding a bet in this fight. With all due respect, I think you need to have your head examined if you are willing to lay a steep price like this on Duffee. In the last three years, he has only fought times, losing two of the bouts. He was knocked out with one punch by the grappler, Mike Russow in epic fashion during his last stay in the UFC. Following that, he has been in two fights that have a combined time of 53 seconds. Duffee's chin might be a concern as well, evidenced by the two knockouts he has sustained from Alistair Overeem and Russow.
I favor Duffee to win the fight, due to his knockout power on the feet. De Fries is not a wrestler, but a submission grappler and does not have a reliable way to get this fight to the ground. Compounding his problems, Duffee has recently been training at American Kickboxing Academy, which is populated with very strong wrestlers. It is possible that Duffee has developed his takedown defense to a reasonable level. It is for these reasons I do not feel comfortable betting the underdog. Total and complete pass on this fight. If you are a degenerate, and must bet the fight, bet the underdog and try for a big score. Don't throw a bunch of money at Duffee.
Some good matchups to start the show here. I will be looking at each fight closely, even the ones I do not have money on. You never know what you might see in the fight or a particular fighter that will help you later. Some of these guys on the prelims might be in more high-profile fights later, and this will give you a leg up versus all the people who only watch the main cards.