Following the conclusion of the UFC 155 Weigh-In's yesterday, Junior dos Santos, Cain Velasquez, Jim Miller and Joe Lauzon joined the FUEL TV weigh-n broadcast to talk about their fights tonight at UFC 155.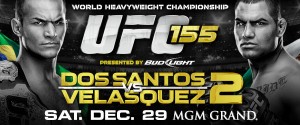 FUEL TV reporter Ariel Helwani interviewed the four fighters which included him asking Dos Santos about the reaction of the crowd at the weigh-in's and his plans to knockout Velasquez once again tonight.
"One more knockout," Dos Santos said. "It's going to be like Cain likes to go to the ground and the fight will end there. If he gives me the chance, it'll be quicker than last time."
On the other side, Velasquez gave his prediction on how the fight would end and stated that he can see himself winning in different ways.
"I have envisioned it so many different ways – a knockout, TKO, submission, a five-round grueling fight – but every time with my hand raised," Velasquez said.
Check out all three interviews from the FUEL TV weigh-in broadcast below: