Hot off the heels of a stellar fight card last Saturday on FOX, the UFC makes its way to Gold Coast, Queensland for UFC on FX 6.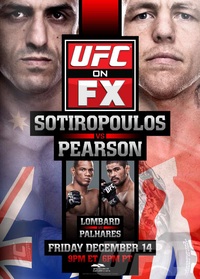 This card is headlined by George Sotiropoulos and Ross Pearson, a bout between the two coaches for TUF: The Smashes. Several UFC mainstays join the most impressive cast members of the show to fill the undercard. In this column we will review the card from a betting perspective and try to look for good spots to put money down.
An overall theme of this particular fight card is uncertainty. In fact, it is so prevalent that many of the fights do not look attractive from a betting standpoint. Some of the issues present in the fighters on this card are: long layoffs, fight IQ problems, lack of many professional fights or experience, and recent uninspired or unimpressive performances. Caution is advised when approaching these fights. However, it is recommended to pay close attention to these fights for future betting options. Some of these TUF cast members will be seen again on UFC programming, and some of the uncertainty revolving around other fighters will be resolved.
For tracking purposes, the lines given are from 5Dimes at approximately 10:30AM EST.
Two important disclaimers: 1) This is written before the weigh-ins. Much of the information that will be assimilated into a final decision comes after the weigh-ins, when there is heavy line movement and the clearest picture of the fight can be seen. 2) Closer to the fights, I would have had the opportunity to bounce my ideas off of other smart people betting these fights. Bettors are human, even the really good ones, and they occasionally miss bits of information. I have often looked at a fight differently after hearing from my colleagues at The MMA Analysis, MMA Oddsbreaker's betting podcast, and preview shows hosted by Gabe Morency (MMA Meltdown, Sports Rage).
Nick Penner (-120) vs. Cody Donovan (-120) – Nick is coming off a less than stellar UFC debut, suffering a TKO loss to a grappler in Anthony Perosh. Cody Donovan is making his debut in the organization, after going 2-2 in his career vs. fighters with a winning record. This fight just screams "pass." Very difficult to rely on either fighter to get the win here due to the inability to accurately gauge Donovan's skill level based on his previous fights, and Penner being a questionable talent.
Brendan Loughnane (+135) vs. Mike Wilkinson (-175) – A battle of the Brits is next, between the two TUF Smashes contestants. Wilkinson has a wrestling and grappling advantage here. He will look to use it to gain top control and use his ground and pound to create opportunities to lock in a submission or win a decision. Loughnane should enjoy a slight striking advantage, and also has reasonable grappling. Wilkinson's grappling advantage should be the difference here, but it does not look to be enough to make a bet on him at these odds. A pass is probably the best play here, but a small play on the underdog is possible as well if the line moves a bit.
Ben Alloway (-215) vs. Manuel Rodriguez (+165) – Both fighters were on The Smashes, with Alloway making it to the semi-finals, and Rodriguez earning a place in the semi-finals. Unfortunately, Rodriguez wound up injured and needed to be replaced in the tournament. Alloway is a grinder, utilizing the clinch against the cage and top control positions to wear down opponents. Rodriguez is explosive on the feet and tricky on the ground. There is about zero chance I will be laying over 2-1 on Alloway. This will be a dog play or a pass.
Mike Pierce (-290) vs. Seth Baczynski (+210) – Pierce is a tough dude. He is built like a tank, never been finished, and has taken top fighters to controversial decisions. Baczynski is on a bit of a run with his six-fight win streak, and is undefeated in the UFC. He has not faced competition as stiff as Pierce, who may be a tad underrated in the division. I favor Pierce here, and will be looking at parlay options with him. If the line continues to climb much higher, I may pass on the fight. I expect Pierce to be thrown in a lot of gambler's parlays and to get the majority of the action. This will drive the price up and make Pierce unplayable, or even make Baczynski look appealing as a dog.
Igor Pokrajac (-365) vs. Joey Beltran (+255) – Let me say this first. There is absolutely zero chance I am laying that kind of price on Igor Pokrajac. He holds grappling advantages over Beltran, but has fight IQ issues that make him near impossible to bet on. He basically punched his own ticket in his last fight, taking BJJ whiz Vinny Magalhaes to the ground. Beltran is a tough brawler who should hold his own in a fight on the feet. I also believe that he has a decent chance of getting back up to his feet if he finds himself taken down. This is a fight where I will be looking at a dog play or a pass.
Chad Mendes (-1500) vs. Yaotzin Meza (+700) – Dana White apologized to Chad Mendes for giving him a noncompetitive bout in his last fight against Cody McKenzie. The UFC gets a pass in this situation, as Meza is a short-notice injury replacement for Hacran Dias. Meza trains with some good people in Arizona with MMA Lab, but he has little chance in this fight. He is basically taking a fight on short notice in Australia against the #2 guy in the division, AND making his UFC debut. Total pass.
Hector Lombard (-210) vs. Rousimar Palhares (+175) – Lombard looks to rebound after suffering his first loss in his last 26 fights. This is a battle of two guys who each have fight IQ issues and major holes in their game. Lombard was extremely passive and had a hard time keeping up with Tim Boetsch in his last fight. Palhares showed that he can have mental lapses in the cage as well. He was basically unable to adapt to Alan Belcher's counters on the ground, and looked like he was completely befuddled as he was getting punched in the face. He has also shown similar issues vs. Nate Marquardt. Neither guy has really beaten great competition in the division, and I can't help but think that both guys are overrated. I like Lombard to win the fight, but I cannot count on him. Lombard obviously has the skills and tools to beat Palhares, but if he has problems implementing them, I cannot justify laying the -210 on him. There are reasons to bet on him, but I believe the reasons to pass the fight are stronger than the reasons for betting Lombard. I will be watching this line.
Colin Fletcher (-120) vs. Norman Parke (+100) – This is the final bout in the lightweight tournament of TUF: The Smashes. Fletcher is a tall, rangy fighter. He uses a very kick-heavy attack to keep his opponents guessing on the feet, and has a solid ground and submission game to compliment that. Parke is more of a wrestling-based grinder, with his own submission game to complement his clinch and top control abilities. Fletcher is going to be a sexy pick among gamblers and fans. This should be a very closely contested fight, and both guys will have their opportunities to win. I favor Parke in this fight, and will be looking to get him at a decent dog price. I believe that he can stifle the attack of Fletcher and get takedowns. His ground game should be good enough to avoid submissions and grind a decision out.
Brad Scott (+155) vs. Robert Whittaker (-175) – Whittaker comes in as a decent-sized favorite in this bout for the welterweight TUF crown, and I can't say that I disagree with the oddsmakers' decision. Scott is well-rounded with a decent gas tank, but looks to suffer a disadvantage on the feet against Whittaker. These guys have two common opponents in Ben Alloway, and Xavier Lucas. Whittaker was able to finish each guy, where Scott beat both by decision. It is that finishing ability and power on the feet that lead me to pick Whittaker to win the fight. However, I do not feel strongly enough in his ability to win to bet on it at current prices.
George Sotiropoulos (-120) vs. Ross Pearson (+100) – Both coaches are in a bit of a "do or die" spot in their careers. This is a must-win fight for each fighter. Sotiropoulos is coming off a two-fight losing streak, a long layoff, and is now 35 years old. Pearson has lost three of his last five fights, has bounced around between lightweight and featherweight divisions, and is a loss away from becoming a true journeyman in MMA at the age of 28. Obviously, Sotiropoulos needs to get this fight to the ground and work his BJJ to win. The problem is that he has difficulties getting the fight there with his sub-par takedowns. Pearson will enjoy advantages on the feet, but he will have to keep the fight there for the majority of the five rounds to exploit that advantage. In the end, I think this is a competitive fight. Due to my perception of this being a close fight, I need plus money to play a side. Even money is not enough for me to play Pearson, and I am definitely not playing Sotiropoulos unless I can get even better plus money on him.
As you can see, I am treading very lightly on this card. I am still pondering my positions in several fights, but most of the fights are likely to be passes. I am looking forward to watching the card because I am interested in the career trajectories for several of the fighters involved. For more detailed analysis of this card, be sure to tune into The MMA Analysis Podcast or follow me on Twitter for updates on which plays I will be making as fight time gets closer.