Bellator MMA will have their long awaited debut on Spike this Thursday night at the Bren Center in Irvine, California and Bellator officials have confirmed the finalized fight card to TheMMAReport.com.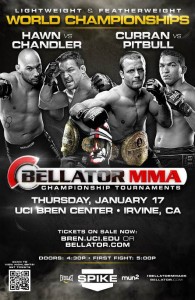 The complete fight card will have 11 fights, with 8 of the fight taking place on the preliminary card on Spike.com, which will begin at 8 p.m. ET/5 p.m. PT.
The preliminary card will feature two light heavyweight tournament fights as Seth Petruzelli (14-6) faces Jacob Noe (9-1) and Emanuel Newton (18-7) meeting Atanas Djambazov (17-2).
The main card on Spike TV will begin at 10 p.m. ET/7 p.m. PT with three fights and two of the fights will be title fights.
The first Bellator fight on Spike TV will be for the Bellator featherweight title as Pat Curran (17-4) makes his first title defense when he is challenged by season four tournament winner Patricio Pitbull (17-1). This title fight was originally scheduled to take place at the end of the Bellator 2012 Summer Series, but Curran had to pull out of the fight when he suffered a broken orbital bone.
In the main event, Bellator lightweight champion Michael Chandler (10-0) will step into the Bellator cage for the first time since May of last year and will make his first title defense against season six tournament winner Rick Hawn.
The finalized Bellator 85 fight card is below:
Main Card: (Spike TV – 10 p.m. ET/7 p.m. PT)
Michael Chandler (10-0) vs. Rick Hawn (14-1) – LW Title Bout
Babalu Sobral (37-9) vs. Mikhail Zayats (19-6) *
Pat Curran (17-4) vs. Patricio Pitbull (17-1) – FW Title Bout
Preliminary Card: (Spike.com – 8 p.m. ET/5 p.m. PT)
Seth Petruzelli (14-6) vs. Jacob Noe (9-1) *
Emanuel Newton (18-7) vs. Atanas Djambazov (17-2) *
Hector Ramirez (9-4-1) vs. Jason Lambert (25-12)
Aaron Miller (12-8) vs. Joe Camacho (13-17-3)
Joe Williams (7-1) vs. Jamie Yager (6-3)
Savant Young (10-9) vs. Mike Guymon (14-5-1)
Brian Warren (18-16-1) vs. J.J. Ambrose (18-4)
Cleber Luciano (7-4) vs. Mario Navarro (4-2)
* – Light Heavyweight Tournament Quarterfinal