The UFC will hold their first fight card of 2013 this Saturday night in Sao Paulo, Brazil, which will be headlined by a five round middleweight bout as Vitor Belfort takes on Michael Bisping.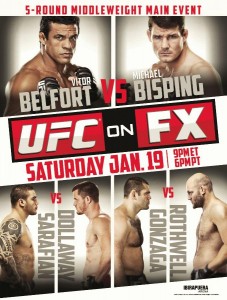 TheMMAReport.com has once again sponsored a contest on MMAVictor.com and the winner of this weekend's contest will win "UFC 152" on DVD, which both Belfort and Bisping were apart of that fight card.
To register for the contest, go to MMAVictor.com, register for the pick'em contest and the league ID number 497.
The winner of the contest will be whoever gets the most points scored, which you will have to pick the winner of every fight, how they will win and what round.
Be sure to register for this contest before it fills out!