Strikeforce went out with a bang this past weekend with its final fight card which featured Tarec Saffiedine grabbing gold from Nate Marquardt.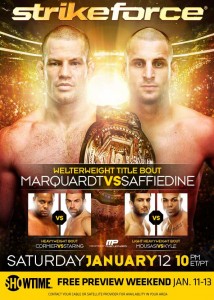 Overall the card was very solid but the ratings were a bust. Strikeforce was only able to peak at around 310,000 total viewers with a very small 0.82 in the 18-49 group, according to one Nielsen source.
The finale number was one of the worst numbers in the history of Strikeforce, but it should be noted it went up against some stiff competition from the broadcast networks including the NFL.
It should also be noted that the "free-view" weekend that many people were expecting was mostly a free on-demand weekend and not a live Showtime weekend which definitely hurt viewership reach.
The nights overall winner was the NFL Playoffs on Fox (Green Bay vs San Francisco) which garnered a 24.03 million viewers with a 8.5 share of the 18-49 demographic between 8PM and 10PM. After 10PM, the NFL's number was even higher with 30.78 million viewers and a 10.1 share of the 18-49 demographic. A distant second was the 2013 Miss America Competition which grabbed 7.08 million viewers with a 1.6 share of the 18-49 demographic.
Putting this all into perspective the NFL playoffs easily dominated the night and once again showed MMA should think twice about going head-to-head with it.