Buddr Roberts has pulled out of his UFC on FOX 6 preliminary card bout against Michael Kuiper and Josh Janousek steps in on short notice to face Kuiper next week in Chicago.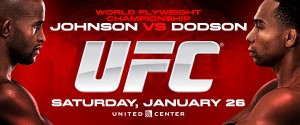 UFC officials officially announced the change on Tuesday and this fight is expected to be the first fight on the card, which will be shown on the UFC Facebook page.
Kuiper (12-1) was originally scheduled to Thiago Bodao at UFC on FX 7, but he pulled out of the fight and the UFC then book him to take on Caio Magalhaes. Then, Magalhaes pulled out of the fight and the UFC shifted Kuiper to the UFC on FOX 6 card to take on Buddy Roberts.
He will be looking for his second UFC victory has he has gone 1-1 in the organization and he is coming off a second round TKO victory over Jared Hamman at UFC 150. His last four victories have come by KO/TKO and 11 of his 12 career victories are by stoppage.
Janousek (8-1) will be making his UFC debut next Saturday night in Chicago and is currently on a six fight winning streak. Four of his eight career victories are in the first round. His last fight took place in 2011 and has worked with Antonio Rodrigo Nogueira in the past as one of his wrestling coaches.
UFC on FOX 6 takes place next Saturday night from the United Center in Chicago and will be headlined by Demetrious Johnson defending the UFC flyweight title for the first time when he is challenged by John Dodson.