The UFC followed up on record breaking FUEL TV and FX ratings this week with another ratings victory last night.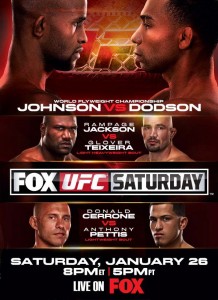 The event which featured a flyweight title fight between Demetrious Johnson and John Dodson was the overall winner for the night according to the Nielsen fast overnight ratings.
UFC on Fox 6 scored a 3.77 million total viewers and a 1.8 (6 share) in the key adult 18-49 demographic. A sharp increase up 13% from the UFC on Fox 5 event which scored a 1.6 in the key adult 18-49 demographic.
The 18-49 male demographic and quarterly ratings were not available yet, but both were expected to be higher than UFC on Fox 5.
The win last night was key as the UFC beat out tough stiff competition from NBC which featured a live 3-hour US Figure Skating Championship event that landed in second-place with a 3.4 million total viewers and a very low 0.5 in the key adult 18-49 demographic. 48 hours also had a very heavy overall viewership with its 9 p.m. + 10 p.m. editions scoring well over 4.8 million total viewers but was only able to average about a 1.0 in the adult 18-49 demographic.
Since both the UFC and the US Figure Skating Championships were live, they will have a great deal of adjustments over the next day or so. In other words, expect the total overall viewership numbers to be up for both. It should also be noted the UFC had an over-run of over 20 minutes which Fox had to cut out which more than likely impacted the live ratings.
All in all, this is another solid win for the UFC which caps off an unbelievable Nielsen ratings week for them.