UFC on FUEL TV 7 takes place on February 16th from Wembley Arena in London and the UFC has announced the preliminary card will be on the UFC Facebook page with six bouts.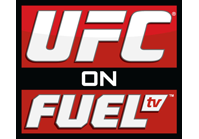 The preliminary card will begin at 12 p.m. ET/9 a.m. PT with six fights and will be headlined by a lightweight bout between Terry Etim (15-4) and TUF: Brazil alum Renee Forte (7-2).
Then the main card will begin at 3 p.m. ET/12 p.m. PT on FUEL TV and will be headlined by Renan Barao (31-1, 1NC) defending the interim bantamweight title against Michael McDonald (15-1). The main card will also see a featherweight bout between top contenders as Cub Swanson (18-5) faces Dustin Poirier (15-1).
The full UFC on FUEL TV 7 fight card is below:
Main Card: (FUEL TV – 3 p.m. ET/12 p.m. PT)
Renan Barao (31-1, 1NC) vs. Michael McDonald (15-1)
Cub Swanson (18-5) vs. Dustin Poirier (13-2)
Jimi Manuwa (12-0) vs. Cyrille Diabate (20-8-3)
Gunnar Nelson (10-0-1) vs. Jorge Santiago (23-10)
James Te Huna (17-5) vs. Ryan Jimmo (17-1)
Che Mills (15-5, 1NC) vs. Matthew Riddle (7-3, 1NC)
Preliminary Card: (Facebook – 12 p.m. ET/9 a.m. PT)
Terry Etim (15-4) vs. Renee Forte (7-2)
Paul Sass (13-1) vs. Danny Castillo (14-5)
Andy Ogle (8-2) vs. Josh Grispi (14-4)
Tom Watson (15-5) vs. Stanislav Nedkov (12-0, 1NC)
Vaughan Lee (12-8-1) vs. Motonobu Tezuka (19-5-4)
Phil Harris (21-10, 1NC) vs. Ulysses Gomez (9-3)