The UFC will hold their first event of 2013 as UFC on FX 7 comes from the Ibirapuera Gymnasium in Sao Paulo, Brazil and the card will be headlined by a five round middleweight bout as Vitor Belfort takes on Michael Bisping.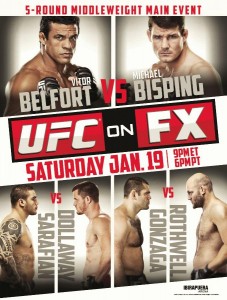 Today's preliminary card will begin at 5:35 p.m. ET/2:35 p.m. PT on the UFC Facebook page with one fight and the remaining six preliminary card bouts will be shown on FUEL TV at 6 p.m. ET/3 p.m. PT.
The main card will then begin at 9 p.m. ET/6 p.m. PT on FX with four fights, which will include Thiago Tavares (21-4-1) vs. Khabib Nurmagomedov (18-0), Gabriel Gonzaga (13-6) vs. Ben Rothwell (32-8) and Daniel Sarafian (8-2) vs. CB Dollaway (13-5).
In the main event, Bisping (24-4) will look to secure a title shot when he takes on Belfort. UFC President Dana White has already stated that if Bisping gets a win tonight in Brazil, he will be next up for UFC middleweight champion Anderson Silva. If Belfort gets the victory, White has not said if he would be in line for a rematch against Silva.
Bisping has been close to a title shot in the past, but has not been able to close the deal. He was in this situation one year ago when he took on Chael Sonnen in the co-main event of UFC on FOX 2. He went to decision with Sonnen and lost a close decision. Following his defeat to Sonnen, he returned at UFC 152 and defeated Brian Stann by decision. The win over Stann was his best middleweight win and if he is successful tonight, it would be another top 10 win on his record.
Belfort (21-10) returns to the middleweight division in this bout after stepping up to face light heavyweight Jon Jones at UFC 152. He nearly pulled off a submission early in the fight with Jones, but the champion was able to survive and get a submission victory in the fourth round.
Since returning to the UFC in 2009, he has gone 3-2 and both of those losses were in title fights. He has ten victories in the first round, which is a UFC record. He looks to knockout his opponents quick and he will be looking for the same in this fight.
This is a scheduled five round fight, which this is the first time that Bisping has had to train for a five round fight in the UFC. Belfort has had several scheduled five round fights in his UFC career, so the question becomes could cardio become an issue in the later rounds for Bisping if the fight makes it there. Bisping has not shown cardio issues in the past, but training for a 25 minute fight is much different than training for a 15 minute fight.
Bisping and Belfort both have 14 career wins by knockout and the winner of tonight's fight is likely to win by stoppage. Out of his four defeats, Bisping has only been defeated by knockout once, which was to Dan Henderson at UFC 100.
This is essentially a pick'em fight when you look at the betting odds. Bisping has a ton on the line in this fight and this is his opportunity to show the MMA world that he is ready for a title shot and defeat a top five middleweight.
During the pre-fight press conference, they had to be separated by UFC officials during the staredown as Belfort was putting his fist on Bisping. He took offense to this and said something to Belfort. In response, Belfort yelled that he is ready and this should be an exciting fight tonight on FX.