The eight season of Bellator MMA continues on Thursday night from the Bojangles Coliseum in Charlotte, North Carolina and the card will be headlined by a bantamweight title fight.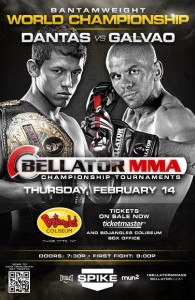 Along with the title fight, the card will feature the four quarterfinal bouts in the middleweight tournament, which three of the four tournament fights will be shown on the main card on Spike TV.
The preliminary card will begin at 8 p.m. ET on Spike.com with six fights and the main card will begin at 10 p.m. ET on Spike TV with four fights.
In the main event of the fight card, Eduardo Dantas (14-3) will make his first title defense since defeating Zach Makovsky last year when he takes on season six tournament winner Marcos Galvao.
The fight card also features the beginning of the middleweight tournament with the quarterfinals begin Brian Rogers (10-4) vs. Dan Cramer (9-3), Brett Cooper (17-7) vs. Norman Paraisy (10-2-1), Andreas Spang (8-2) vs. Doug Marshall (15-6) and Sultan Aliev (8-0) vs. Mikkel Parlo (9-0)
The current Bellator 89 Fight Card is below:
Main Card: (Spike TV – 10 p.m. ET)
Eduardo Dantas (14-3) vs. Marcos Galvao (13-5-1)
Brian Rogers (10-4) vs. Dan Cramer (9-3) *
Brett Cooper (17-7) vs. Norman Paraisy (10-2-1) *
Andreas Spang (8-2) vs. Doug Marshall (15-6) *
Preliminary Card: (Spike.com – 8 p.m. ET)
Timothy Goodwin (7-2) vs. Nathan Davis (4-0)
Chris Mierzwiak (4-2) vs. Johnny Buck (11-8)
Kyle Bolt (6-2) vs. Joe Pacehco (4-0)
Sultan Aliev (8-0) vs. Mikkel Parlo (9-0) *
Aaron Johnson (11-10) vs. Brennan Ward (5-0)
David Mejia (4-0) vs. Mont McMullens (2-3)
* – Middleweight Tournament Quarterfinal