Hardcore fan or casual fan, love it or hate it, it doesn't matter, MMA is becoming more and more mainstream seemingly each time the number goes up on an event poster.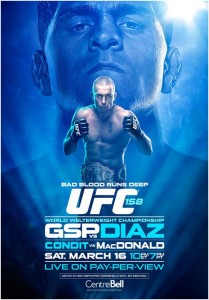 It has already led to more money for the fighters via larger fight purses, more PPV cuts, and bigger sponsorship opportunities. For the fans, well we have MMA on our TV's every weekend, more often than not it's the UFC.
Now more than ever, each fight outcome could see a swing of hundreds of thousands of dollars one way or the other, if not millions for the guys at the very top of the heap in the UFC. That means fighters have begun protecting their "brand," which in the fight game is 100% themselves. Not even winning fights, but selling a fight is priority numero uno; made clear by the UFC's welterweight division where Nick Diaz, coming off a loss, is fighting long-time champion George St. Pierre.
Diaz, as brash as he is talented, got so far under the skin off the champion and has such a large fan base UFC President Dana White puts up with numerous hardships from Diaz for the simple reason that the PPV will sell. At a time when PPV sales are "down" from just a couple of years ago, White decision to give Diaz a shot at GSP was most likely an easy one. Diaz sells fights, he's a polarizing figure who's talking scores him as many fans as his unique fighting style.
So even after UFC 154, a night in which Johny Hendricks knocked out Martin Kampmann in just 46 seconds in a bout to decide the next title challenger; Nick Diaz was able to leapfrog Hendricks for the next title shot. That same night at UFC 154, welterweight champion St-Pierre returned from tearing his ACL to defeat Carlos Condit, the interim welterweight champion who earned his shot by beating Diaz. Hendricks, riding a five fight win streak over some of the biggest names in the division, was passed over a title shot by Diaz, who lost his last fight to the man whom the current champion just beat.
There was some outrage, but largely fans understood. The common theme of the discussions was, "Hendricks should have talked more trash about GSP, created drama!" That's not Hendricks style, never has been, figured his fighting did the talking for him. Now I don't know Hendricks at all, but being from a similar country town I know the guys who get the most respect around here are the guys who get results. The guy you won't hear from until he's tapping you on the chest and, politely for the situation, asking you to meet him outside. However, that isn't what sells to mainstream America.
Decisions to turn down or withdrawal from fights have become understandable, with so much on the line why would anybody put up unnecessary risk? With huge deals being made daily, such as the one Floyd "Money" Mayweather just signed with Showtime/CBS, why would anybody jeopardize their brand, their future? How long before guys (or girls) are turning down fights based on being bad "stylistic" match-ups, just like boxing? Sure the up and comers of the fight world will take on the short-notice fights, but the top guys feel like the risk far out-weighs the reward, and the rational fans don't blame them.
Just yesterday, former Strikeforce champion Tarec Saffiedine, coming off the biggest win of his career over Nate Marquardt, turned down a fight with Condit. Condit, without an opponent after Rory MacDonald was forced to withdrawal due to injury, is coming off a loss to GSP in which he almost finished the champion via a kick to the head. A win over Condit would vault Saffiedine into the upper echelon of UFC welterweights, but he turned it down, citing lingering injuries and lack of training partners. Again, the fans understand, why derail all the momentum he brings over by taking a short notice, shorthanded fight against somebody as dangerous as Condit? Even with so much to gain?
You know who stepped up? Hendricks, to be fair already fighting on the same card, but still only one step away from a title shot. From fighting Jake Ellenberger, a dangerous but fringe top-ten ranked guy, to fighting Condit, easily ranked top five and was dangerously close to stopping the most dominate welterweight champion of all time in his last fight. Why take the more dangerous fight, when a win over either likely results in a title shot? Because Hendricks want Dana White to be left with no doubt over who should get the next title shot, because Hendricks has been leap-frogged before, and because Hendricks wants more than anything to be the best 170 pound fighter in the world. Forget brands or stylistic match-ups, beating Carlos Condit means he's one step closer to achieving that.
At a time when most would agree the UFC's welterweight division has never been more competitive, Johny Hendricks has put together a most impressive streak. During which he knocked out the previously once beaten, only by GSP, Jon Fitch in twelve seconds. He's relegated former title contender Josh Koscheck into the realm of taking big money fights instead of marching to the title, beating him just weeks after having Bronchitis followed by Mono. He put a resounding halt to Martin Kampmann's impressive win streak, knocking out a man known for his amazing comebacks in less than a minute.
Imagine looking back on this streak should he get past Carlos Condit at UFC 158? But when we do, I sure hope it's noted that in a time where other's started picking, choosing, and talking their way into fights, Johny Hendricks just fought them all.