Michael Bisping was defeated by Vitor Belfort last month in Brazil at UFC on FX 7 and it has now been revealed that Vitor Belfort was granted a therapeutic use exemption for testosterone replacement therapy.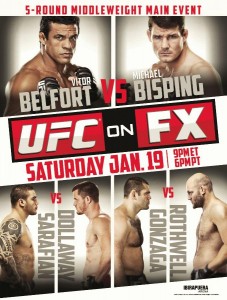 Bisping released a statement on his website this week and began by saying he did not lose to Belfort because of TRT, he lost because he made a mistake.
"As I said right after the fight, I lost because I made a mistake and Vitor took advantage of it," Bisping wrote on his website. "It sucks. I don't like it, but that was the result. I lost. Bottom line."
"Over the past couple years, and even right before the fight, I have made my views on TRT very, very clear. I don't feel that I need to go into depth about it again right now. All I have to add, about this specific instance, is that it is very disappointing that someone who was caught cheating with testosterone in the past, now gets to use testosterone legally. A well known side effect of steroids is that it reduces testosterone, so I don't understand how it would make sense to then grant someone an exemption to then increase testosterone."
"All that being said, I am not here to make excuses or cry over spilled milk. I fight in the best organization in the world, The UFC, and am very excited to work and earn a title fight, the right way. That process starts by whooping Alan Belcher's ass at UFC 159 on Saturday, April 27th, live on PPV."
This is not the first time that Bisping has faced an opponent who was on TRT, as three of his losses in the UFC have come against a fighter who had a therapeutic use exemption for testosterone replacement therapy.