It was recently revealed by the UFC that Vitor Belfort was granted an exemption for testosterone replacement therapy for his UFC on FX 7 bout against Michael Bisping in January.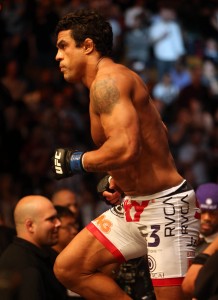 According to the UFC, "Belfort has been on a medically approved TRT regimen under the supervision of a medical doctor from the State of Nevada, after being diagnosed with hypogonadism, or low testosterone. The purpose of a medically administered TRT regimen is to allow patients with hypogonadism to maintain testosterone levels within a range that is normal for an adult male."
Belfort joins a list of multiple UFC fighters that have been granted an exemption for TRT, which includes Chael Sonnen and Dan Henderson.
UFC President Dana White spoke out on the use of TRT during the UFC on FUEL TV 7 Post Fight Press Conference, which he wants to test fighters who are on TRT during their entire training camp.
Belfort has been quiet since the UFC announce that he was on TRT for his fight against Bisping, but he ended his silence on Sunday. He sent out several tweets about being on TRT, which included that landing the head kick against Bisping had nothing to do with TRT. He went on to tweet that this will be the last time he plans to talk about TRT and doesn't want to fight someone who will use this as an excuse on why they lost.
"This will be last time that I will talk about TRT," Belfort tweeted. "I never hide from UFC that I was on the treatment but I admit that I didn't admit to the press. I confess that this was my mistake I am MEN enough to admit my mistakes. So from now on, guys please don't fight me if u going to use this as a execuse that's it. I never lie and never hide from UFC."
He is obviously responding to the comments that Bisping made over the past week and at the UFC on FUEL TV 7 Q&A. Bisping released a statement on his website last week and stated that he made a mistake and Vitor took advantage of the situation. His statement also stated, "I am not here to make excuses or cry over spilled milk."
Belfort may not want to talk about TRT, but he can expect to be asked questions in the lead up to his next fight, which will take place against Luke Rockhold in May.
One of the questions that will need to be asked is why he needs to be on TRT to compete in mixed martial arts?