After yesterday's UFC on FUEL TV 7 weigh-in's in London, UFC President Dana White made statements during a fan Q&A about testosterone replacement therapy and believes it has become a way for fighters to cheat.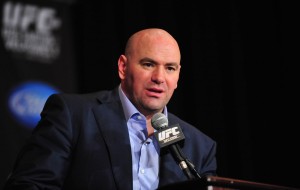 During the UFC on FUEL TV 7 Post Fight Press Conference, White was asked about his thoughts on TRT and believes fighters are using it to get "jacked" up during there training camps.
"From what I've seen over the last year, I've seen situations where guys, those of you who know what testosterone replacement is, if you're older, testosterone starts to get lower, they can get you testosterone to get your back up to a 25-year-old," White said at the post fight press conference.
"What I believe guys are doing, guys are jacking through roof on their entire training camp, then getting back down to normal levels before the fight, which is cheating. I hate it, I don't like it and I'm going to fight it. And if you are using TRT in the UFC, we're going to start testing the [expletive] out of you, through your entire camp."
Currently, testosterone replacement therapy is legal as long as a fighter is granted an exemption for it through the athletic commission. Notable fighters that have been granted an exemption for TRT include Chael Sonnen, Dan Henderson and Vitor Belfort.
Even though TRT is legal, White believes that fighters are cheating on it and doesn't like seeing one fighter being on it and taking on someone who is not.
"The TRT thing is legal. The commission lets guys use testosterone replacement therapy. I believe that guys are cheating on it. I truly believe that guys are cheating on it, and I don't like to see a natural gifted athlete go in and fight against a guy against who has been jacked up on TRT for three months."
White's other issue with a fighter being on TRT is you can have multiple people talk about the use of it and get several different answers.
"The other problem that I have. You get four guys together, four smart guys who can have an educated conversation about testosterone replacement therapy. They'll give you four different answers. When it's that vague, and that many people don't understand it, nano grams and this ratio to that ratio and all that [expletive], when you sit down and start talking about it, it's not fair. If you're testosterone level isn't high enough, maybe you're too old to fight."
With White making his statements clear on the use of TRT, it will be interesting to see how fighters like Sonnen, Henderson and Belfort react to this.