UFC on FUEL TV 7 took place on Saturday at Wembley Arena and Tom Watson, Renan Barao and Stanislav Nedkov were awarded fight night bonuses for their performances and each bonus was worth $50,000.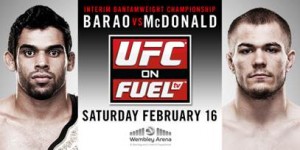 UFC President Dana White announced the bonuses at the post fight press conference.
The fight of the night went to Watson and Nedkov, which Watson won in the second round by TKO, which was the first UFC victory for him. White praised Watson and Nedkov for their performance in the octagon and said "they deserved every dime of it."
Along with winning the fight of the night bonus, Watson also won the knockout of the night bonus and walks away with an additional $100,000.
Barao won the submission of the night bonus for his win over Michael McDonald in the fourth round of the main event. This is the second time that Barao has won a fight night bonus, with his previous fight night bonus coming at UFC 138 against Brad Pickett. He won the fight of the night with Pickett and that fight also came in England.