The first ever UFC title fight on FUEL TV took place on Saturday at Wembley Arena in London as Renan Barao successfully defended the UFC interim bantamweight title with a fourth round submission victory over Michael McDonald.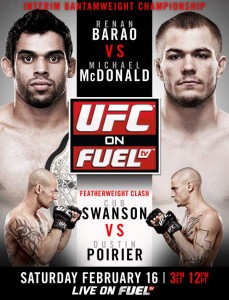 Barao's game plan was clear from the start of the fight and it was to take the fight to the ground and make McDonald fight off his back.
In the opening round, Barao attempted three takedowns and two of them were successful. McDonald would be able to get back to his feet and the round was very close.
McDonald's best round would come in the second round when he appeared to stun Barao. However, Barao was able to quickly recover and landed more significant and total strikes in the round.
Barao began to take control of the fight in the third round, where McDonald was unable to mount much offense as he only landed four strikes in the round. In what would end up being the final round, the fight would go to the ground and Barao locked in an arm triangle choke. McDonald attmepted to defend the submission, which he signaled to the referee that it was fine. However, Barao was able to apply more pressure and McDonald tapped.
The submission win for Barao (32-1, 1NC) is his fourth submission victory in his last seven fights. With the victory, he will now wait for bantamweight champion Dominick Cruz to get healthy and they will have a unification title fight.
Swanson wins fourth in a row with decision over Poirier
Cub Swanson was looking to become a title contender with a win over Dustin Poirier and he was able to do that with a decision win in the co-main event of UFC on FUEL TV 7. He was able to control the takedowns of Poirier, which he was 2 of 9 in the fight and was able to land the better strikes to get the victory.
They both landed the same amount of significant strikes, but Poirer appeared to slow down in the third round and Swanson was able to take advantage to win the fight on all of the judges scorecards. Two of the judges scoring the fight gave all three rounds to Swanson, with the other judge giving one round to Poirier.
Swanson (19-5) has now won four in a row and his only lost in the UFC came against Ricardo Lamas. This was his first UFC victory by decision and his last decision win came in 2010 at WEC 52 against Mackens Semerzier.
The complete UFC on FUEL TV 7 results are below:
Main Card: (FUEL TV)
Renan Barao def. Michael McDonald via submission (arm triangle) – Round 4, 3:57
Cub Swanson def. Dustin Poirier via unanimous decision (29-28, 30-27, 30-27)
Jimi Manuwa def. Cyrille Diabate via TKO (injury) – Round 1, 5:00
Gunnar Nelson def. Jorge Santiago via unanimous decision (29-28, 29-28, 30-27)
James Te Huna def. Ryan Jimmo via unanimous decision (29-27, 29-28, 29-28)
Matthew Riddle def. Che Mills via split decision (29-28, 28-29, 30-27)
Preliminary Card: (Facebook)
Renee Forte def. Terry Etim via unanimous decision (29-28, 29-28, 30-27)
Danny Castillo def. Paul Sass via unanimous decision (30-27, 30-27, 29-28)
Andy Ogle def. Josh Grispi via unanimous decision (29-28, 29-28, 30-27)
Tom Watson def. Stanislav Nedkov via TKO (strikes) – Round 2, 4:42
Vaughan Lee def. Motonobu Tezuka via unanimous decision (30-27, 30-27, 30-27)
Phil Harris def. Ulysses Gomez via unanimous decision (30-27, 30-27, 29-28)