Ronda Rousey successfully defended the UFC women's bantamweight title last night at UFC 157 as she defeated Liz Carmouche in the first round by armbar.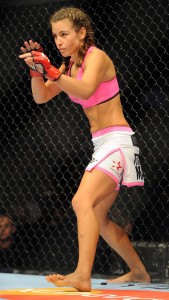 Her next title defense has not been determined at this time, but it's likely that the winner of the TUF 17 Finale fight between Miesha Tate and Cat Zingano will be next up for Rousey.
Tate and Zingano appeared on the UFC 157 Post Fight show on FUEL TV and they were both asked by FUEL TV reporter Ariel Helwani on their thoughts on Rousey's performance.
"It's pretty much what I expected. But she did get sloppy giving her back up, and that's a habit I've picked up on," Tate said. "And I got her back in the first fight and I guarantee if I get in the second one, I'm going to rip her face off."
Neither Tate or Zingano seemed to be impressed with the performance of Rousey, but Zingano said it was impressive because it was the first female fight in UFC history.
"It's impressive because it's the first female fight in the UFC and I'm very proud that we are all apart of it," Zingano said. "I think there is a lot of holes in the game that can be filled and time will tell."
During the UFC 157 Post Fight Press Conference, Rousey said she plans to be in Las Vegas on April 13th for the TUF 17 Finale when Tate and Zingano will face off. If Tate defeats Zingano, it could set up a rematch between her and Rousey and would likely surpass the numbers that Rousey's fight with Carmouche did last night.