Urijah Faber earned his third victory in the octagon last night with a first round submission victory over Ivan Menjivar and proved he is still one of the top contenders in the UFC bantamweight division.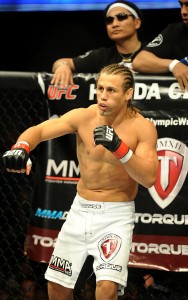 The fight with Menjivar was a rematch from their 2006 bout, which Faber won by disqualification for an illegal kick to a downed opponent.
Faber (27-6) was happy with his performance and getting the submission was "awesome."
"I thought I did well," Faber said on the UFC 157 Post Fight Show on FUEL TV. "We didn't get too far into it, which is good. It was a good, solid win. I had a tough opponent in Ivan and I've got nothing but respect for him. He's done so much for the sport and a lot of people don't know that about him. To get a submission over him was awesome."
With Faber getting the win last night, he puts himself back into title contention in the UFC bantamweight division. The UFC is hoping that current champion Dominick Cruz will be able to return this summer to face interim champion Renan Barao in a unification bout.
However, could Faber get a rematch with Barao with Cruz is not ready to return? Faber was asked if he deserves another shot and the former WEC champion believes that he will get whatever he deserves.
"You keep saying, do you deserve it? I deserve whatever I can get in this world. If I can get a title shot, I'll take it. I'm just going to keep on fighting and winning and answering to the haters."
As long as Cruz is ready to return in the summer, Faber will have to win another fight before getting another shot at the UFC title. Potential opponents for Faber in his next fight could be Michael McDonald or a rematch against Eddie Wineland. If Faber wins his next fight, it would be hard for the UFC to not give him another shot at the title.