Bellator MMA has reached the mid-way point of their eighth season and the organization made news this week with the decision to not pursue free agent welterweight Jon Fitch and changes to the Bellator 93 card on March 21st in Maine.
Bellator decides they will not sign Jon Fitch
The UFC released Jon Fitch on Wednesday and speculation began that a good landing spot for him would be with Bellator. I was in Utah for Bellator 90 when the news of Fitch's release was announced and was able to catch up with Bellator MMA Chairman and CEO Bjorn Rebney to see if they would be interested in signing him.
Rebney told me that his organization would not be signing Fitch and it appears that the former UFC welterweight number one contender will be signing with the World Series of Fighting.
Once I reported the news that Bellator would not attempt to sign Fitch, reaction was mixed from MMA fans. On one side, fans believe that Bellator was making a mistake in not attempting to sign him and other fans saw why Bellator would not go after him.
With the UFC trimming their roster by 100 fighters, Bellator will look at every fighter and it will be a case by case situation. If the fighter fits what Bellator is looking for, fans can expect them to attempt to sign that fighter.
Jansen-Held move from Bellator 92 to Bellator 93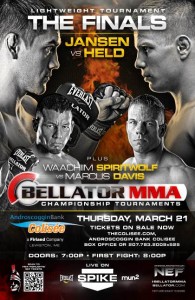 Bellator 92 on March 7th was scheduled to be headlined by the season seven lightweight final with Dave Jansen facing Marcin Held. The fight had to be pushed back two weeks due to an undisclosed injury suffered by Held. The fight will now headline Bellator 93, which takes place on March 21st in Maine.
With the lightweight final off the Bellator 92 card on March 7th, that fight card will now feature the semifinal bouts in this season's lightweight and featherweight tournaments. The finals of the lightweight and featherweight tournament are scheduled to take place at Bellator 94 in Tampa.

Two tournaments to take place in Summer Series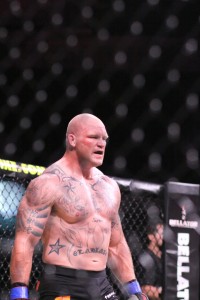 The 2013 Bellator Summer Series will begin in June and Rebney confirmed to me this week that there will be two tournament take place in the Summer Series. He did confirm that one of those tournaments will be a bantamweight tournament and it appears that Marcos Galvao and Travis Marx have already secured spots in the tournament.
The other tournament that appears likely for the Summer Series would be a heavyweight tournament. Bellator announced heavyweight fights this past week that will take place at Bellator 93 which are Brett Rogers vs. Eric Prindle and Ryan Martinez vs. Travis Wiuff. Bellator did not announce that these fights would be tournament qualifers, but a win would likely secure a spot in the upcoming tournament.