The UFC released Jon Fitch yesterday and the belief was that he could likely land in Bellator and speculation started that he could end up fighting in Bellator.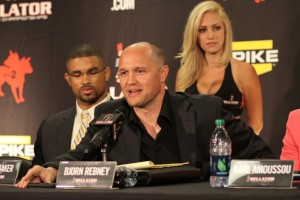 However, Bellator MMA Chairman and CEO Bjorn Rebney told TheMMAReport.com that they will not be signing him.
"I have a lot of respect for Jon [Fitch] and I have a lot of respect for anyone who has to courage to do what these guys do and the athletic ability to do what they do but we are not going to be signing Jon Fitch," Rebney said prior to Bellator 90.
Fitch is considered one of the top welterweight fighters in the world and had a UFC record of 14-3-1. However, he has gone 1-2-1 in his last four fights which led to the UFC deciding to part ways with him.
Bellator's welterweight division is one of the deepest divisions currently in Bellator and Rebney wants to continue the development of the fighters that are currently under contract with his organization.
"We have a stacked welterweight division right now. We have a lot of guys that we are developing that we anticipate are going to be world class fighters and break the top ten. We want to keep guys busy. We want to keep guys inside the cage and we have a plan in terms of the next year and who is going to be apart of the tournaments and it's just not the time."
When it comes to free agents that may come available, it's a case by case basis in deciding whether Bellator will attempt to sign the fighter.
"There is no hard and fast line in the sand with us. 'King Mo' Lawal came out of Strikeforce. He is one of my favorite fighters fighting in our organization. He is wildly exciting and awesomely talented. Ben 'Killa B' Saunders is another example and is fighting for us tonight. He came out and lost two straight in the UFC when we signed him. I just liking watching him fight. I love the knees and I love the clinch game and I thought he was exciting, so we signed him. There will be others like that. There will be other guys that get released from the UFC and it's not a hard and fast rule."
According to Rebney, the philosophy of Bellator is to build fighters in the organization and allow them to become a top fighters in the world.
"The philosophy that we have employed is where we build some of the best fighters in the world from within. Pat Curran, number two in the world. Michael Chandler, on most peoples list as number four in the world and other guys rapidly ascending to the top five to ten in the world. That has been the model and that doesn't mean that we are not going to sign guys. That doesn't mean that a guy might be released from the UFC or any other organization in the world that we may not think he would be a good fit for them here."