The UFC on FUEL TV 7 Weigh-In's took place today at Wembley Arena in London, England and all of the fighters were on weight for tomorrow's fight card.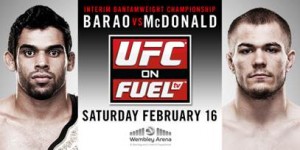 The main event on tomorrow's card will be Renan Barao (134 lbs) defending the UFC interim bantamweight title as he takes on Michael McDonald (134 lbs).
It's likely that the winner will not defend the title after this fight and wait for Dominick Cruz to be healthy and have an unification title bout.
The best staredown of today's weigh-in's was between the two fighters in the c0-main event as Cub Swanson (146 lbs) meets Dustin Poirier (145 lbs). After the two stood in front of each other, UFC President Dana White stepped in between both fighters as they continued to stare at each other.
The full UFC on FUEL TV 7 Weigh-In Results are below:
Main Card: (FUEL TV – 3 p.m. ET/12 p.m. PT)
Renan Barao (134) vs. Michael McDonald (134)
Cub Swanson (146) vs. Dustin Poirier (145)
Jimi Manuwa (204) vs. Cyrille Diabate (206)
Gunnar Nelson (169) vs. Jorge Santiago (170)
James Te Huna (205) vs. Ryan Jimmo (205)
Che Mills (170) vs. Matthew Riddle (170)
Preliminary Card: (Facebook – 12 p.m. ET/9 a.m. PT)
Terry Etim (155) vs. Renee Forte (156)
Paul Sass (156) vs. Danny Castillo (156)
Andy Ogle (145) vs. Josh Grispi (144)
Tom Watson (185) vs. Stanislav Nedkov (185)
Vaughan Lee (134) vs. Motonobu Tezuka (135)
Phil Harris (125) vs. Ulysses Gomez (126)