It has been rumored for a couple of weeks that the UFC was looking to book Vitor Belfort against Strikeforce middleweight champion Luke Rockhold and UFC President Dana White has confirmed the fight is being targeted for later this year.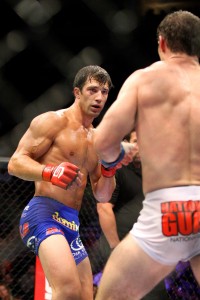 A report by Tatame stated that the UFC was targeting to have the fight headline a fight card in Brazil in April, but White stated today in London that a date and venue has not been determined for the fight.
The UFC has already announced four fight cards for the month of April, which are UFC on FUEL TV 9, The Ultimate Fighter 17 Finale, UFC on FOX 7 and UFC 159. It would seem unlikely for the UFC to add a fifth card to April, so May could be a likely date for the card.
Belfort (22-10) is coming off a TKO victory against Michael Bisping at UFC on FX 7 in Brazil and has gone 4-2 since returning to the UFC. Following his win over Bisping, he stated he wants a rematch with Jon Jones for the UFC light heavyweight title, but he will take a middleweight bout with Rockhold instead.
Rockhold (10-1) is the Strikeforce middleweight champion and has been recovering from a shoulder injury, which kept him out of the final Strikeforce card last month. He went 9-0 in Strikeforce, which included wins over Ronaldo "Jacare" Souza, Keith Jardine and Tim Kennedy.
The winner of this fight could be looking at a title shot against current middleweight champion Anderson Silva. The UFC has not announced when Silva's next title defense will take place, but it appears that Chris Weidman will get the next chance at the title.