UFC 158 takes place on Saturday night in Montreal as UFC welterweight champion Georges St-Pierre will finally face former Strikeforce welterweight champion Nick Diaz.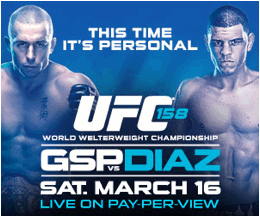 The UFC has been attempting to make this fight happen since the middle of 2011, but has not previously taken place due to Diaz missing a press conference and St-Pierre being injured.
Below is a video released by the UFC, which gives the history of these two fighters and why this fight is happening now.