Following the UFC 158 pay-per-view, the organization held the post fight press conference from the Bell Centre in Montreal.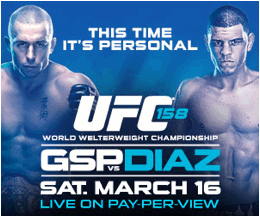 The press conference was attended by UFC President Dana White, welterweight champion Georges St-Pierre, Nick Diaz, Johny Hendricks, Carlos Condit and Jake Ellenberger.
During the press conference, White stated that Hendricks would be next in line for a title shot, St-Pierre talked about what the game plan was and much more.