The first light heavyweight tournament semifinal bout was between Jacob Noe and Renato "Babalu" Sobral and Noe advance to the tournament final with a third round TKO victory.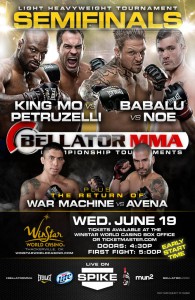 The fight opened with the fighters exchanging strikes and Babalu looked for a takedown at the one minute mark but the attempt was unsuccessful. They continued to strikes with each other with Babalu continuing to come forward.
Babalu would once again look for a takedown with him going for the takedown against the fence this time. Noe would be able to stop the attempt and move away from Babalu and return to the center of the cage. Babalu would go for a double leg takedown but Noe would once again stop the attempt.
As the fighters were grappling against the fence, Babalu landed a knee to the groin and the action was paused. After Noe took time to recover from the illegal shot, the fight would continue. They would strike with each other till the end of the round with Babalu landing kicks and Noe countering the kicks with punches.
Babalu opened up the second round with a kick and continued to come forward at Noe. After an exchange of short punches, they grappled against the cage with Babalu's back against the fence. Once again, Babalu landed a shot to the groin with a knee and the action was paused. He would take a minute to recover and the fight continued.
Once the fight was restarted, Noe became the aggressor and began to land several jabs. Babalu was able to use leg kicks to get Noe to back up. As the round began to come to a close, Babalu started to showboat but Noe landed several punches and had Babalu on his heels.
In the final round, they grappled against the cage and Babalu looked to take the fight to the ground. Noe was able to stop the attempt and be able to breakaway. Babalu would look for another takedown but once again Noe was able to stay on his feet. Noe landed a left hook that stunned Babalu and opened up a cut on the face of Babalu. Noe landed a right hand that had Babalu on his heels and Babalu circled around him.
After Noe landed landed a combination against the fence and Babalu stumbled on his feet. At this point, the referee had seen enough and called the fight. The official end of the fight came at the 3:32 mark of the final round and Noe is one win away from a title shot in Bellator.
Bellator 96 Results:
Jacob Noe def. Renato "Babalu" Sobral via TKO (strikes) – Round 3, 3:32
Vitaly Minakov def. Ron Sparks via TKO (strikes) – Round 1, :32
War Machine def. Blas Avena via TKO (strikes) – Round 1, 3:55
Damon Jackson def. Keith Miner via TKO (strikes) – Round 1, 2:00
Raphael Butler def. Jermiah O'Neil via TKO (strikes) – Round 1, 2:57
Ryan Martinez def. Rich Hale via KO (strikes) – Round 1, 2:19
Brandon Halsey def. Joe Yager via split decision (30-28, 28-30, 30-28)
Derek Campos def. Brandon Girtz via unanimous decision (29-28, 29-28, 29-28)
Justin McNally def. Steven Artoff via verbal submission (triangle choke) – Round 1, 2:44