Muhammed "King Mo" Lawal returned to action for the first time since losing to Emanuel Newton and defeated Seth Petruzelli by knockout in the first round to advance to the light heavyweight tournament final.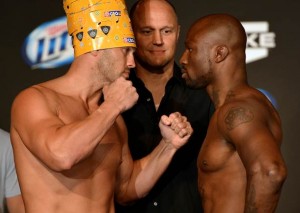 The bout opened with a high pace with each fighter landing punches. They would end up clashing heads as they went to the ground and referee John McCarthy came in to pause the fight.
The fight would be restarted and King Mo took the fight to the ground. He had top position on the ground and began to work his ground strikes. He would get out of the position and stand over his opponent. He would find his opening and land a right hand to the chin of Petruzelli and McCarthy came in to call the fight.
Lawal (10-2, 1NC) moves on to the light heavyweight tournament final on July 31st at Bellator 97 in New Mexico and will face Jacob Noe who defeated Renato "Babalu" Sobral in the co-main event of Bellator 96
Bellator 96 Results:
Muhammed "King Mo" Lawal def. Seth Petruzelli via KO (punch) – Round 1, 1:36
Jacob Noe def. Renato "Babalu" Sobral via TKO (strikes) – Round 3, 3:32
Vitaly Minakov def. Ron Sparks via TKO (strikes) – Round 1, :32
War Machine def. Blas Avena via TKO (strikes) – Round 1, 3:55
Damon Jackson def. Keith Miner via TKO (strikes) – Round 1, 2:00
Raphael Butler def. Jermiah O'Neil via TKO (strikes) – Round 1, 2:57
Ryan Martinez def. Rich Hale via KO (strikes) – Round 1, 2:19
Brandon Halsey def. Joe Yager via split decision (30-28, 28-30, 30-28)
Derek Campos def. Brandon Girtz via unanimous decision (29-28, 29-28, 29-28)
Justin McNally def. Steven Artoff via verbal submission (triangle choke) – Round 1, 2:44