Following his defeat to Jacob Noe in the co-main event of Bellator 96, Renato "Babalu" Sobral announced his retirement from mixed martial arts.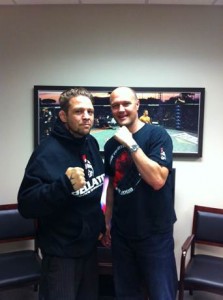 Babalu (37-11) lost to Noe in the third round by TKO after referee Kerry Hatley came in to stop the fight as Babalu was on his feet but was stumbling on his heels.
After Hatley stopped the fight, Babalu did push him which could result in a suspension and fine from the Chickasaw Nation Gaming Commission who regulated Bellator 96.
After the fight was over, he went over to the Bellator announce table to announce his retirement and place his gloves in the center of the cage to make the announcement to the fans in attendance at the WinStar World Casino in Thackerville, Oklahoma.
During the post fight press conference, Babalu explained why now is the time to retire.
"This is kind of emotional for me to talk right now," Babalu said. "I think I have been in the cage maybe more than anybody sitting in this room. I lived the life. I have no regrets. I have helped this sport to grow. I will keep continuing to help this sport grow some how. I will not fight anymore. I wish I could be fight. I wish I could be faster. I wish I could be as strong as I use to be, but my body can not continue to do this anymore. It is time for me to step out and help somehow."
He will finish his career with 19 wins by submission, 5 by knockout and 13 by decision. In his last six fights, he went 2-4 and all four of the losses came by knockout with three of them coming in the first round.
He will be remember as a fighter who took on some of the best fighters in the sport including Dan Henderson, Fedor Emelianenko, Chuck Liddell and Mauricio "Shogun" Rua. He did win the Strikeforce light heavyweight title in 2008 but lost the title in his first title defense against Gegard Mousasi.